Archived News Item
Archives and Mercy
July 28, 2014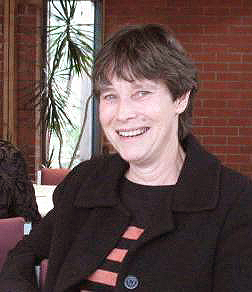 I was born in Sydney but spent most of my early childhood in Mudgee in country New South Wales before my family moved to Newcastle where I attended high school and university. At the University of Newcastle I majored in history and languages. After working as a primary school teacher for a couple of years, I realised that I my real passion was to work in the cultural heritage field. I had always been interested in history and it seemed the right time to change direction and retrain as an information professional. In 1988 I completed post graduate qualifications in librarianship and archives at the University of New South Wales and started my journey working as a professional archivist.
In 2007, after working on the archives of the Conference of Leaders of Religious Institutes (CLRI NSW), I started work on a short term project to update the archives of the former Institute of Sisters of Mercy of Australia (ISMA). At the time I didn't realise that this would be the beginning of my ongoing work as part of a wider group of Mercy archivists throughout the world who are dedicated to ensuring that the archives and other cultural collections are preserved into the future. In 2009 I was given the opportunity to attend the International Mercy Archivists' Conference held in Burlingame, California and found it to be a great way to find out what was happening in other Mercy archives around the world. I also participate in the activities of a network of Mercy archivists from Australia and New Zealand who gather every two years to meet and support each other in our Mercy ministry and network at both professional and personal levels.
I am currently working as the Manager, Archives and Heritage at ISMAPNG, managing a team of archivists and curators who work with the diverse collections we hold throughout Australia and Papua New Guinea. Our team began operating on 12 December 2011 when the new Institute of Sisters of Mercy of Australia and Papua New Guinea (ISMAPNG) was established. Our role includes managing and helping preserve the archival records and moveable heritage objects created by or related to the Sisters of Mercy in Australia and Papua New Guinea since 1846. We also provide access to the collections for research and educational purposes and we promote the collections through exhibitions and projects designed to increase awareness of Mercy history and heritage. We are working towards getting more of our collections online and using social media as a means of connecting with a wider audience.
I thoroughly enjoy my work and have found such great support, respect and good will from all people I work with as we try to fulfil our vision of ensuring the continuing Mercy story can be told into the future. Outside of my work at ISMAPNG I enjoy playing and listening to music and with my archivist husband supporting our teenage daughter as she progresses through her school years.
Messages to: JANE McGEE:
Manager, Archives and Heritage ISMAPNG, Institute Centre, Stanmore