Archived News Item
Anti-Poverty Week 12-18 October 2014
September 22, 2014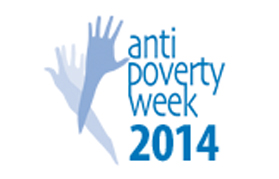 Poverty and severe hardship affect more than a million Australians. Around the world, more than a billion people are desperately poor.
During Anti-Poverty Week (12-18 October, 2014), everyone is encouraged to help reduce poverty and hardship by organising an activity during the Week or taking part in an activity organised by others.
The main aims of Anti-Poverty Week are to:
– Strengthen public understanding of the causes and consequences of poverty and hardship around the world and in Australia; and
– Encourage research, discussion and action to address these problems, including action by individuals, communities, organisations and governments.
Last year, more than 400 activities were organised for Anti-Poverty Week. This was the fourth consecutive year in which the total has exceeded 400, having grown from just nine activities when the Week began in 2002.
Activities during the Week in 2013 included one or more of the following:
• congress, speech, lecture, oration, sermon, presentation, media interview
• public rally, meeting, forum, debate, seminar, conference, discussion, soapbox
• training session, cooking demonstration, information stall, display, trivia night
• workshop, school project, report, book launch, survey, information kit, campaign
• religious service, festival, film night, art competition, concert, fundraiser, auction
• award, street soccer, bicycle ride, stair climbing, walkathon, flash mob, quiz,
• barbecue, breakfast, tea, lunch, dinner, reception, children's entertainment
• meal service, toy drive, clothing drive, lamington drive, yard maintenance.
One young energetic group called Oaktree is leading a movement to end poverty and you can read of their work on their website: http://www.oaktree.org/
Go to the Anti-Poverty Week website to take part in the organisation of or participation in the activities for Anti-Poverty Week.