Archived News Item
Another Darfur in the Nuba Mountains of Sudan
July 28, 2011
Amidst the indiscriminate bombing of hundreds of thatch-roofed villages, executing of elders, burning of churches, looting and destruction of properties is the strength of those forming a New Sudan. This article, providing real insight into the struggle and conflict, is sourced from people living in the region whose identity is not disclosed for their own safety. These people have a particular connection with the Sisters of Mercy and readers are asked to reflect on the impact of the current situation; a situation requiring openness and compassion.
Click here to view a map of Sudan (pdf)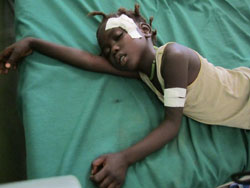 There was great excitement and joy for the Sudanese in the south as they celebrated their hard-won independence from the Khartoum government on 9th July, 2011. The 22-year long civil war between the government's forces in the north and the rebel movement of the SPLA (Sudanese People's Liberation Army) ended in January 2005, and saw over 2 million people killed and starved to death and many more men, women and children displaced. Countless stories can be related describing the evil deeds perpetrated – on both sides – and the trauma suffered will take several generations to abate. The hopes and belief is that the formation of a New Sudan, with the continuing assistance of the international community, will help secure a state of ongoing and future development for the majority black tribes-people in the south. It will also help to heal the scars that such a bloody and brutal conflict caused.
The people of South Kordofan state in the centre of the country, meanwhile, are in a state of shock and disbelief as they are being terrorized by the government's armed forces (SAF) and its allied militias. President Hassan Omar al-Bashir's forces claim to be targetting rebel fighters in the Nuba Mountains but their indiscriminate bombing of hundreds of thatch-roofed villages, executing of elders, burning of churches, looting and destruction of properties, MiG raids on airstrips when teachers and builders were being evacuated begs the question of whether this is, instead, another wave of ethnic cleansing aimed to kill as many of the black Muslims, Christians and Animists who have lived peaceably together for centuries and whose only desire is to improve the quality of life for their children. The latest fighting followed disagreement over security arrangements and also the suspect election of Ahmed Haroun as Kordofan's governor. Haroun is wanted by the International Criminal Court for war crimes in Darfur.
In a statement from the Episcopal Bishop of Kadugli, Reverend Andudu Adam Elnail writes; "Once again we are facing the nightmare of genocide of our people in a final attempt to erase our culture and society from the face of the earth. It is not a war between armies but the utter destruction of our way of life and our history, as demonstrated by the genocide of our neighbors in Darfur. This is a war of domination and eradication, at its core it is a war of terror by the government against its own people." 1
On 5th June 2011 SAF entered Kadugli town and many were killed and injured. The UNMIS peacekeepers reported that at least 100 people were killed and approximately 70,000 people fled the town. Up to 10,000 people sought refuge in the protection perimeter at the UNMIS (United Nation's Mission in Sudan) compound. Stories of people having their throats slit like goats and women and girls being raped by the SAF were told to hospital workers treating the wounded. UN officials in other places of Southern Kordofan estimate that dozens have been killed in aerial bombings in the past two weeks and dozens more in extrajudicial killings. Nuban officials put the civilian death toll in the hundreds. The tens of thousands of internally displaced peoples (IDPs) are living in appalling conditions – no shelter, no food or water, and no medical care.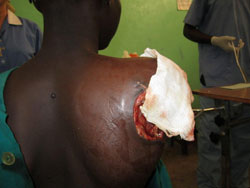 On June 9th an eyewitness account was recorded in Kauda: "Some men in the airstrip started shouting at people to run and hide under some trees because the Antonovs and MiGs could be heard coming… everybody started running here and there. The sound of those aircraft was perceived almost immediately and everybody in their own way started praying. Suddenly the sound of a bomb was heard as well as shooting. The panic increased among those of us who were there. After that sound, we were told to get up and to run again and to lay down under other trees, and once more to stand up and to run again towards trees further away. A father and mother of a family were running with us carrying their two small children. An older woman attempting to run told me "I can't run anymore… I feel my legs without strength…" We did not have any other choice but to run or die, so I assisted her to run again. We hid ourselves with other people. For over three hours we trembled at the sounds made by the Antonovs and military jets… Lying under the last tree I could see a jet flying very fast towards us… More bombs and gunfire were heard… Our prayers each time were increasingly mixed with tears and fear… Finally the noise stopped… We were all speechless and numb as we gradually got up and made our way home…"
In a statement at the UN Security Council briefing US Ambassador Susan Rice2 decried the horrific human rights abuses and the ethnic dimensions of the conflict. Bombs were also reported in Kauda and there are allegations that the SAF are arming local populations, encouraging Janjaweed-like militias and planting landmines and possibly digging mass graves. "So many people have been made to leave their homes," said Ali Shamilla, liaison officer for the Nuba Relief, Rehabilitation and Development Organization. "Many are living in caves." Witnesses said government soldiers were shooting "the black people," a reference to Nubans, who are often darker skinned than the Arab-dominated military.
A spokesperson for the Sudan Democracy First Group3 said on 19 June 2011: "There are numerous cases of abductions, forced disappearances, summary executions of sympathizers to the Government of South Sudan and of local UNMIS mission staff and even medical personnel, which allegedly took place inside and outside the premises of the mission." Humanitarian activities such as the provision of food and security for the IDPs are consequently being hampered. The UNMIS peacekeeping force admits privately that it can do very little, both because of its own weaknesses and the intimidation and obstruction it is increasingly facing – especially from government forces and militias.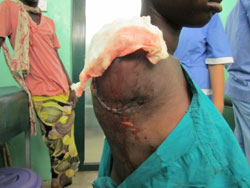 Since fighting started two weeks ago, the Khartoum government has done its best to isolate these remote regions to keep information from flowing out and humanitarian assistance from flowing in. The children and women pouring into Juba from Kadugli and other towns wear signs of deep trauma and hunger, say aid workers, and tell stories of Arab militias killing anyone who is black. "The government thinks that all black people are opposition SPLA supporters, and are therefore targets, even if they are children or old grannies," explained one worker who just left the area. Another Nuba aid worker who fled with his family said the government forces were acting as if under order to clear out the whole Nuba population. None of the aid workers wished for their names or organizations to be mentioned for security reasons.
In mid-June President Obama and UN Secretary General Ban Ki-moon both spoke out against the killings and violence that erupted and urged all parties to lay down their arms. Reports two weeks later from the ground confirm that the bombs being dropped from Antonov planes and MiGs in Kordofan state are continuing. Nuba people are increasingly suspicious that some Egyptian UNMIS personnel are sympathetic to Bashir's government and the SPLM have accused them of complicity in the genocide and of raping Sudanese women seeking refuge at the UN base.
The tepid response from the international community so far is being met with frustration, though not surprise. There are real fears that this new war will become another Darfur and the rhetoric of disarming rebels is just a cover for a land grabbing of the rich resources that exist in the Nuba Mountains. With the loss of 80% of Sudan oil reserves to the South and with oil-rich Abyei in hot contention – SAF forces overtook and occupied the town in May – Bashir, who has been charged with war crimes and genocide in Darfur, is under intense pressure from his mainly-Arab constituency to prove his government still has the power to deliver. He does not want to lose the Nuba Mountains.
The Nuba people, caught in the buffer zone during the civil war between the north and the south, fought alongside the SPLA and tens of thousands of civilians and soldiers were killed. As black Africans within the Arabised north, their hope was that the "New Sudan" promised by the SPLA would end their marginalisation and win respect for Nuba languages, religious observances and culture. When the Comprehensive Peace Agreement was signed between John Garang and Khartoum in 2005, however, the fate of the Nuba Mountains was unclear It is now accepted that the Nuba were short-changed in the CPA because it denied them self-rule. After 9 July 2011 South Kordofan will be a part of the North.
So far, Southern president and former rebel commander, Salva Kiir, has refused to speak about a return to war. However, the SAF and SPLA are now engaged in bloody battles on three fronts, including with splinter militia groups. Kiir says he remains committed to peace whether or not "some people interpret this as an act of cowardice". He has sought international support to put pressure on Bashir, with a potential role for China, which has strengthened its economic ties with both north and south.
The conflict in the Nuba Mountains is already being seen through the lens of earlier wars: the north-south war; the Darfur war; the jihad of the 1990s. It is different. The sheer number of armed men and women under organised command on both sides has never before been matched in Sudan— including more than 60,000 on the government side. The determination of the Nuba: their fighters cannot be underestimated and they are more numerous and much better led than the Darfur rebels, with formidable organisational skills, command capabilities and discipline. This could be another protracted and bloody civil war with millions affected.
Every government, together with the UN, must apply increasing pressure on Khartoum to stop the genocide that has already started in the Nuba Mountains.
Contact: Carmel Heagerty RSM, Institute Justice Co-ordinator
Email: Institute.Justice@mercy.org.au