Archived News Item
Anne McGuire makes first vows with Rockhampton
December 16, 2009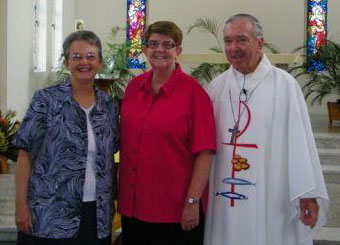 Anne McGuire made her first vows as a Sister of Mercy in the Rockhampton Congregation on October 31, 2009. What follows is Anne's reflection delivered during the liturgy.
In 1841 Catherine McAuley wrote the following in a letter to Sister de Sales White: "The simplest and most practical lesson I know… is to be good today – but better tomorrow. Let us take one day only in hands – at a time, merely making a resolve for tomorrow. Thus we hope to get on – taking short, careful steps, not great strides". (February 28, 1841)
This feels a little like the journey I have been taking, short steps, bringing me to this place. I am conscious, that today is All Saints Eve, and as I look at you – what a wonderful array of saints – God's holy and beloved, assembled for this happy, happy occasion. As this journey unfolds I have been acutely aware that this is not all about me!
In a recent book entitled Why Go to Church?, the author Timothy Radcliffe notes: "We cannot tell the stories of our lives. Whatever sense they have is in the story told by God… heroes are the centre of their stories but saints – just minor characters in a story which is about God. The story of my life is not about me!" (Radcliffe, p. 137)
It is well to note that we gather today, standing on the shoulders, and walking in the spirit of great people in the story of God – women and men whose words and deeds made a difference in the world, however small or grand; women and men whose actions spoke of their love for God, and God's people and, indeed, "all that belongs to God"; people like our grandparents Ellen Gertrude and James McGuire, our parents Enid Joan and Gerard Majella McGuire, my mentors and friends Angela Martin RSM and Carmel O'Neill, and a significant band of women, whose "daughters" are in our midst; Nano Nagle, Mary Aikenhead, Mary MacKillop and our own Spirit Mother, Catherine McAuley. They were great adventurers and they dare us, indeed urge us to run headlong into the spaciousness of God!
This day comes as a stop along the way in a much longer journey – many of you have accompanied me and you honour us with your faith in me and your presence!
So, the last word goes to T.S. Eliot:
With the drawing of this Love and the voice of this Calling
We shall not cease from exploration
And the end of all our exploring
Will be to arrive where we started
And know the place for the first time.
Through the unknown, unremembered gate
When the last of earth left to discover
Is that which was the beginning;
At the source of the longest river
The voice of the hidden waterfall
And the children in the apple-tree
Not known, because not looked for
But heard, half-heard, in the stillness
Between two waves of the sea.
Quick now, here, now, always –
A condition of complete simplicity
(Costing not less than everything)
And all shall be well and
All manner of thing shall be well… ("Little Gidding")
From the depths of a grateful heart – thank you!
From: Anne McGuire