Archived News Item
Anila Makes Final Vows.
April 13, 2011
On March 26, 2011 Sister Anila Isaac made her Perpetual Profession with the Sisters of Mercy. The ceremony was celebrated by Archbishop Hart at Sacred Heart Church Sandringham.
Sisters of Mercy from all over Australia, as well as local parishioners, friends, and many women and men from our Mercy ministries gathered to celebrate with Anila. It was very moving to see so many of the Sisters of Mercy who had ministered in Pakistan. It was also particularly wonderful that Anila's parents were able to travel from Canada to be with her. Sacred Heart Church and its congregation were alive with not only a joy, but a particular love and warmth as everyone entered into the ceremony, affirming Anila in her commitment and promising to support her fully into the years ahead.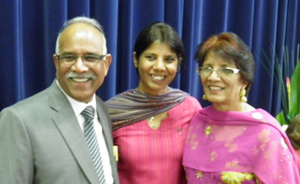 Anila was born in Rawalpindi, Pakistan, received her education there and eventually taught at the Presentation Convent. She met the Sisters of Mercy in Pakistan and was drawn to the charism of Mercy which she saw in action through the Australian Sisters who had come to minister in Pakistan. Anila made her first vows in Pakistan and ministered there for some years. Circumstances arose which meant she had to made make a decision leave Pakistan and come to Australia to continue her Mercy journey. Anila's response was only possible because of her loving relationship with God and her deep commitment to Mercy.
Anila wrote of her celebration: "Saturday 26th March the day of my profession was beautiful. What made it so beautiful? For me it was the Spirit of Mercy that unites all of us which made it special and beautiful. I felt surrounded by so much love and support from everyone. .. I loved the joyful response of all the Sisters. My joy and delight in making a mark on the path of Mercy where many faith filled women have trod before me and many would follow after me."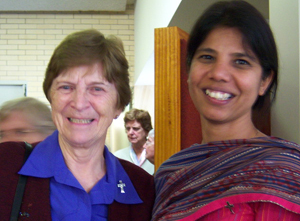 In speaking of Anila's commitment, Archbishop Denis Hart said in his homily "What distinguishes the Mercy Order is a fresh blending of the contemplative spirit with a compassionate heart. .. We are indeed privileged that Sister Anila is bringing her considerable gifts to Melbourne as part of the works of the Sisters of Mercy. Difficulties in her own country can mean that like some of the first Sisters of Mercy who stood out in the country with nowhere to lay their head, Sister Anila is a reminder that the commitment to the Gospel is a total openness to the will of God with regards to one's whole person and activity."
All of us present at the Profession ceremony felt truly blessed on the day and prayed with Archbishop Hart – " May Sister Anila generously embrace the love of Christ, publicly professing it as life-giving for the world, and embrace, as did Catherine McAuley, the love of prayer and the care of those who are poorest and most needy."
Kaye Evans rsm
kayee@mercy.org.au