Archived News Item
An inspiring example of adapting to change
December 16, 2010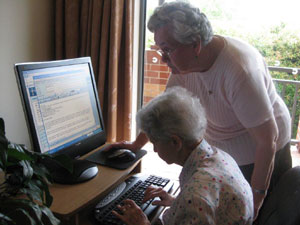 For those times when you're struggling to adapt to change or feel overwhelmed by the thought of diving into the brave new world of information technology, the following story provides some inspiration.
At 102 years of age, Melbourne Sister of Mercy, Mary Mildred O'Brien, has recently been updating her IT skills.
Apparently this retired teacher who lives at Cabrini Ashwood, an aged care facility near Melbourne, has been an avid computer user for some time, recognising its valuable role in engaging with people and the world around us.
"It is most important that each of us knows how to use the computer so that we can be informed each day of the latest news, as well as being able to communicate with members of the congregation, as well as with family and friends," says Sister Mildred.
"By means of the computer, we can be aware of all happenings in both the Catholic and secular world, and this is a means of keeping our minds alert, and interested in what is taking place."
Perhaps this willingness to engage with others and the world around us is a key ingredient in living a long life?