Archived News Item
An Illuminating Discovery
October 7, 2013
At the conclusion of the Eucharistic celebration marking Mercy Day 2013 at the Mercy International Centre in Baggot Street, Dublin, Mary Reynolds rsm, the Executive Director of Mercy International Association (MIA) thanked all those who had organised and participated in the Mercy Day liturgy at Baggot Street. Mary then told the surprised and delighted congregation that she had a very exciting announcement to make – the discovery of what is believed to be an original and accurate portrait of Catherine McAuley! At the same time as the announcement was made in the chapel, it was also shared with the global Mercy family through Mercy e-news so that near or far, all would share that same moment of excitement.
The illustration, which was discovered by Mercy Associate Danielle Hicks-Gallagher, appears in the artwork of Clare Augustine Moore's manuscript 'The Rule and Constitution of the Religious Sisters of Mercy', on the page entitled 'Of the Superior and of the Visitation of the Monastery'.
Although the page has been seen by many people down through the years, the significance of the woman in the full Mercy habit was overlooked. However when Danielle began working on the digital archive of Clare Augustine Moore's works, she raised the question of the identity of this Sister, and the importance of this illustration came to light.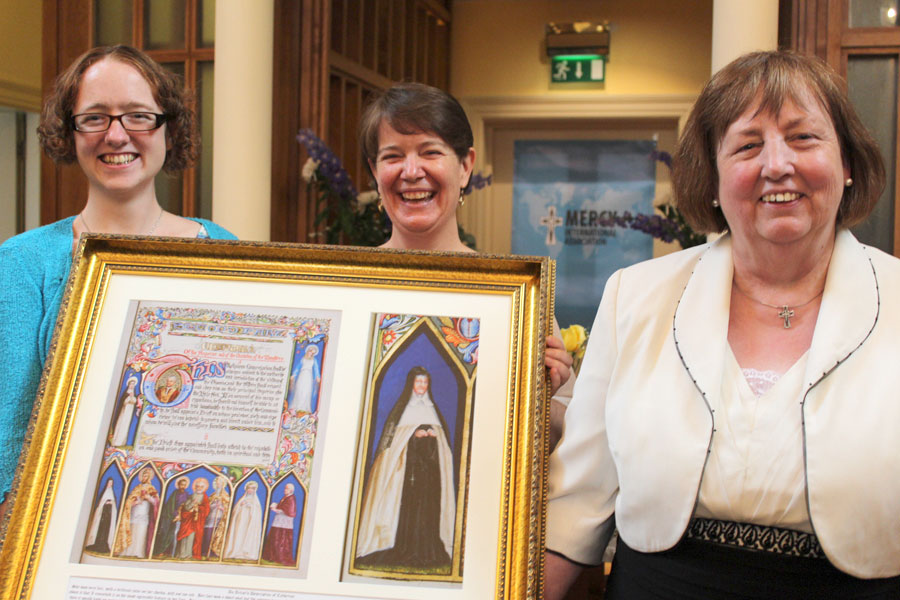 Danielle Hicks-Gallager (L), Mary Kay Dobrovolny rsm (MIA),
Mary Reynolds rsm (MIA)
The framed image (available to view) is now on display in the Heritage room of Mercy International Centre and reproductions on cards and posters are available for sale in the gift shop.
Click here to read the full story of Danielle's wonderful discovery!
Click here to read the account of the Mercy Day celebration at Mercy International Centre, Dublin.