Archived News Item
AN EXPERIENCE OF THE MERCY OF GOD
August 25, 2016
Part of my occupation as a Sister of Mercy involves the ministry of Spiritual Direction and Retreats. In 2009 I was mentored into the ministry of Retreats in Everyday Life in the Bathurst Diocese along with a friend, Kathleen Jones by Sr Patricia Nugent. (Kathleen and I trained as Spiritual Directors in the Ignatian Tradition.) Patricia began this ministry a decade earlier, as I was making my entry into the Sisters of Mercy. I participated in Patricia's first Retreat In Everyday Life in Dubbo in 1999, never imagining that I would one day be involved as a spiritual director on the team and be responsible for the organisation of these retreats.
In this year of Mercy, and coinciding with my PhD work in the area of Ignatian Mysticism, Karl Rahner's Theology of Grace and Ecological Theology, this ministry has taken on a new momentum. Not only for myself but for the team who participate in delivering the retreats and consequently for the participants and the Diocese in general. Patricia handed over the "reins" a few years ago now, but has continued to "mentor" the group and provide encouragement and advice, and ensured that there were opportunities for supervision and ministry nourishment for spiritual directors in a rural area.
Earlier this year Patricia retired from ministry. We are most grateful to her for her vision and commitment to this ministry in this diocese for these last seventeen years. Her dreams for the Retreat in Everyday Life continue to be realised as we move into the future. One of those dreams was to have more people experience the retreat by having more spiritual directors available for each retreat. The retreat in Dubbo in the first week of August this year was significant as the team is now five in number and all five were needed for this Dubbo retreat.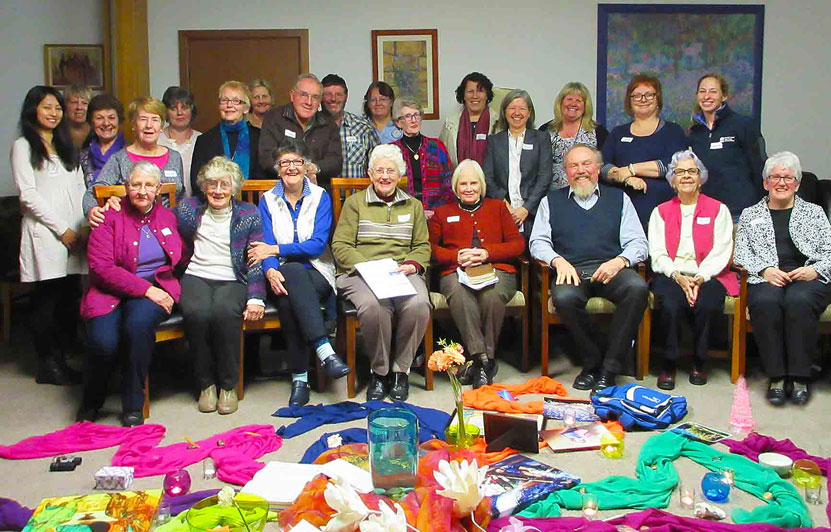 This retreat saw the largest number of participants the program has ever had since it began in 1999. Twenty-six parishioners signed up. It was also the first time the team has offered the retreat specifically to staff in a school of the parish. St John's College took up the offer, and several members of staff participated. To make it easier, spiritual directors met them at the College. Those who participated from both the College and the Parish found the experience of the week of prayer and reflection a most valuable time.
Some comments from participants:
"I found the assistance provided by my director in explaining new ways of praying and the discussions about the emotions created by various readings most helpful, and also the intimacy of these discussions. My desire for the future is that this intimacy will continue to develop as intimacy with God himself and that my prayer life may also permit greater self-awareness."
"I really enjoyed the new techniques of praying, of putting myself in the reading, to feel, smell, ponder what was happening, what the message really was and how it has impacted on my life."
"What I enjoyed and found helpful was just stopping and taking time out. To have a lovely supportive caring listener – helping me recognise Jesus where I am. Encouraging me and being interested in my story."
"The most pivotal insight for me was to be open with God. Give my whole heart and feelings to God. I don't need to sugar coat things. He knows my heart already and loves me regardless."
"My desires are to continue growing in my spiritual journey; to see and acknowledge that God is communicating and working with me every day. Prior to this week, I was limiting myself where I could seek and listen to God. Now I feel like I'm more "open." I realise now that it's actually not that hard and feel optimistic about the future."
Retreats in Everyday Life are an opportunity to reflect on life and to recognise God already present there and to do so as part of our ordinary week, to seek to be aware of God in every aspect of ordinary life. This retreat is essentially an individual journey, travelled in the company of others who are also on their own journey; it is a unique chance to contemplate our lives and the things that are most important to us. One of the gifts of the week is the opportunity of having someone to journey with in the form of a spiritual director in a confidential setting.
A spiritual director listens to each person's story of faith and life as they choose to share it "with one ear open to the Spirit of God." Spiritual directors ask open-ended questions that assist the retreatant in finding God present where they have not previously thought to look or to assist them to recognise and rejoice in the journey and God's part in it as it unfolds before them. More often than not those who participate experience a deep awareness of God's love and mercy for the first time in their lives.
On a Retreat in Everyday Life participants are encouraged to spend at least ten to thirty minutes or more in personal prayer a day in their own time and meet with their spiritual director each day for thirty – forty-five minutes at a time that suits them. There is no prior experience or knowledge needed to participate, only a willingness to be open to the process offered.
In Dubbo, the retreat began with a three-hour orientation on Sunday afternoon for the whole group. Then participants came each day to meet with their director who usually gave them a scripture passage to use in their personal prayer for the next day. At the end of the week, the group gathered again on Friday evening and had some time to reflect on the week and share something of the graces they had experienced throughout the week.
This Retreat in Everyday Life is based on retreats from the Ignatian Tradition and makes use of the wealth of riches found in Ignatian Spirituality. St Ignatius Loyola (1491-1556), the founder of the Jesuits, left as a legacy to Christianity a particular way to develop and grow in relationship with God through finding God in all things. This particular way is known as "The Spiritual Exercises." There are many forms of retreats based on these "Exercises" available today. This retreat is one of them. All our Directors have grounding in or are familiar with this tradition of Spiritual Direction.
The Retreat in Everyday Life team members are Robyn Blunt, Kathleen Jones, Fr Carl Mackander, Sr Ann-Maree O'Beirne rsm and Sr Maureen Schiemer rsj.
This year retreats have also been offered in Cowra and Wellington.
Click HERE to view upcoming retreats.

You can find out more about the Retreats in Everyday Life in the Central West and Beyond at http://www.retreatineverydaylife.com/
Messages to: Ann-Maree O'Beirne rsm
Photo: Some of the participants of the 2016 Retreat in Everyday Life, Dubbo.