Archived News Item
AN ARCHDIOCESE CELEBRATES MERCY
December 5, 2016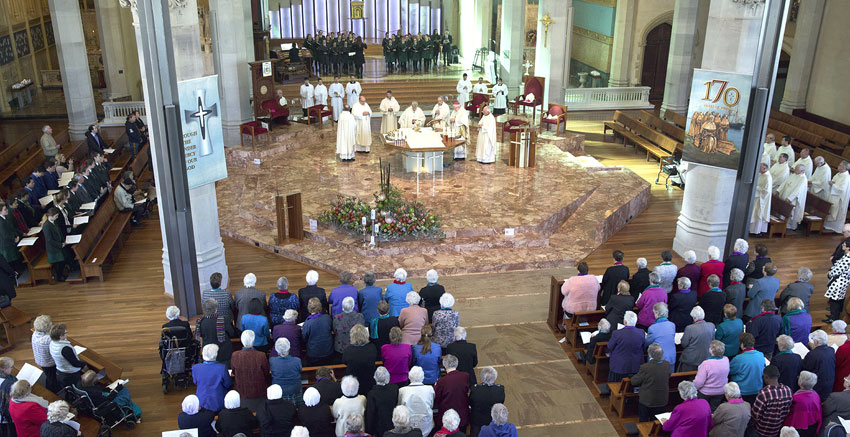 5 December 2016
On Saturday 24 September 2016, St Mary's Cathedral, Perth welcomed representatives and special guests of The Sisters of Mercy Australia and New Zealand, to celebrate the 170th anniversary of the arrival of the first Sisters of Mercy in Australia on Friday, January 9, 1846.
Mother Ursula Frayne and her six companions sailed up the Swan River from Fremantle to the young, struggling township which, in time, would become the modern, vibrant, multi-cultural city of Perth.
Recounting this day in her letter to the Sisters back in Dublin, Ursula wrote: "We had a most delightful sail …. The weather was glorious; a strong breeze tempered the heat of the burning sun, and filling our sails, propelled us along so smoothly that we hardly felt the motion…….The scenery was charming, the river broad and winding. Nature here had an undivided empire; human industry had literally done nothing. At length we came to the landing place, a veritable jetty, upon which were assembled a crowd of sightseers…. Among them were two or three aboriginal natives, who in their short cloaks of kangaroo skin looked really majestic".


More than 500 guests attended this special Mass celebrated by Archbishop Timothy Costelloe SDB. He was joined by Bishop Christopher Saunders from Broome, Bishop Gerard Holohan from Bunbury, Fr Peter Whitley, Vicar General of Perth, Monsignor Michael Keating, Dean, St Mary's Cathedral and a number of priests.
The celebration acknowledges the fact that since that beginning in 1846, the Sisters of Mercy have become recognised for their commitment and service to Education, Healthcare and compassionate support for the poor and refugees, not only in WA but nationally and internationally.
Messages to Kerry Willison rsm