Archived News Item
All In This Together
October 28, 2013
"It has given me such pleasure to find you are so happy, for I am determined not to behave well, and you must join me…."
Catherine McAuley's letter to Sr. Mary Delamere, 1836.
It was Catherine McAuley's sense of fun and play as a way of building community for the mission that was the inspiration for the recent Mercy Day Celebrations for the Finance and Administration Centres of ISMAPNG.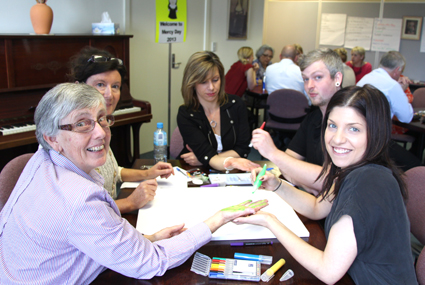 On September 24th, in an Institute first, approximately one hundred staff and Sisters of Mercy from Rockhampton, Melbourne, Sydney, Ballarat, Perth and Newcastle gathered in their local areas to participate in a common program with the theme "We Are All in This Together". The activities for the day were inspired by Catherine McAuley's sense of joy in community. This aspect of the founding story, that of the importance of cheerfulness, exchanging stories, and enjoying each others company as a means to building a shared sense endeavour in order to nourish, sustain and grow the community for mission, was explored through a variety of practical and reflective exercises.

The day opened with a series of activities that enabled participants to get to know each other better exploring and sharing both their personal experiences and their experiences of involvement in the Mercy community. These activities were followed with a presentation by Ian Hobbs, Director of Finance and Administration, who addressed staff across Australia live via internet link, speaking on the theme for the day. During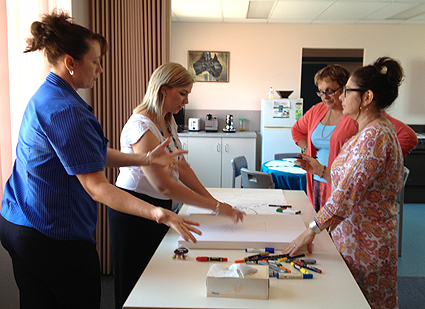 his presentation Ian reflected on the diversity of people and their gifts which comprise the Institute, the many ministries that the Institute is involved with, and what it is to be on mission together. His presentation highlighted the vital contribution that those involved in the Finance and Administration teams make in supporting the Sisters and the mission of the Institute. Following Ian's presentation participants were invited to present a response creatively and visually on canvas. Who would have thought that the Institute contained so many enthusiastic and talented artists!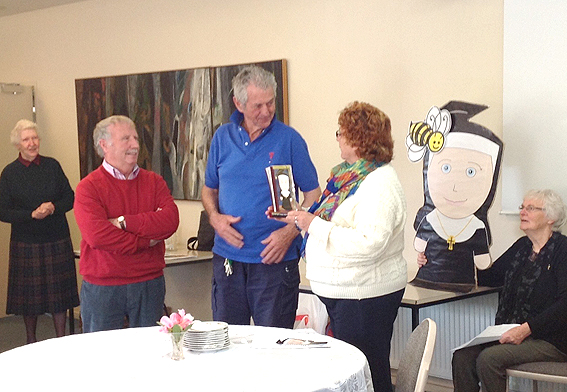 Reflective of Catherine's "Foundation Circulars", in the weeks leading up to Mercy Day, staff were invited to photograph themselves and their colleagues in their work surrounds with an image of Catherine McAuley. Over 60 submissions were received from right across Australia, with images of Catherine participating in a wide variety of activities displayed on a shared platform accessible to all staff. This competition provided an opportunity for staff to put "faces to names" of many people that they communicate with regularly by phone or email, and to see first hand the different roles and diverse locations in which the mission of the Institute is carried. Staff were invited to vote for their favourite picture and a trophy was awarded for the most popular photo as part of the Mercy Day celebrations.
The celebrations concluded over a shared lunch which provided a chance to continue building relationships and reflecting on the mornings activities. One staff member noted that the day had provided inspiration through offering a reminder to her of all the work that happens across the Institute stating "it's easy to forget all of the people that the work of Mercy touches when you are working in a single location, it's great to feel proud of all that is accomplished." Another said of the experience "it was uplifting to hear about the positive and exciting future that we have as an Institute, I feel like everyone is bringing their best, and there's so much to bring".

As a memento of the day all participants were given a key ring which was embossed with an image of Catherine McAuley on one side and a quote from her Familiar Instructions on the other. The quote which states "be ever ready to encourage, to praise, to stimulate" serves as a reminder of the importance of building a climate of encouragement and positive energy for mission in order to continue to realise the dream of Catherine McAuley in our time.
Perhaps the Spirit of the day could be best summed up by the words of Catherine McAuley in her letter to Elizabeth Moore in 1824…
"All are good and happy, the blessing of unity still dwells amongst us, and oh what a blessing – it should make all things pass into nothing. All laugh and play together, not one cold stiff soul appears…This is the Spirit of the Order indeed – the true Spirit of Mercy".
Messages to Natalie Acton – Mercy Ethos Educator
Photos:
Top right – In Melbourne
Bottom right – In Rockhampton
Left – In Ballarat receiving the trophy for the most Popular Photo!