Archived News Item
All Hallows' partnering with Mercy Works Inc.
July 23, 2008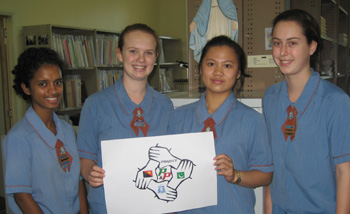 All Hallows' School in Brisbane is this year partnering with Mercy Works Inc. by supporting two of the agency's programmes. Through fundraising and awareness-raising activities, the school is concentrating on health projects in Kiunga, Papua New Guinea, and education projects in Karachi, Pakistan. Students have named this initiative the "P & P Project".
According to Ms Angela O'Malley, All Hallows' Mission Co-ordinator, the girls' fundraising efforts, which include the "hard-yards" of raffles, cake stalls and concerts, are closely connected to the notion of being a global citizen.
"Through the P & P Project students are learning about the issues affecting people in Papua New Guinea and Pakistan and the ways in which some of these challenges are being overcome.
"By concentrating the whole schools' fundraising on only two projects, it is hoped that the amount of funds raised will make a significant impact in the needed areas. To date, $7,000 has been raised and the target is $20,000 plus."
Later this year, in collaboration with Brisbane's State Library, the school will hold a special fundraising event entitled "Cocktails for a Cause". The evening will include musical entertainment and an art auction. There will also be a presentation from Mercy Works outlining the agency's projects in PNG and Pakistan.
"Cocktails for a Cause" will be held on Saturday October 18.
Would you like to find out how you, your school or organisation can partner with Mercy Works Inc.? Find out more.