Archived News Item
All Hallows' community raises $40,000
June 3, 2009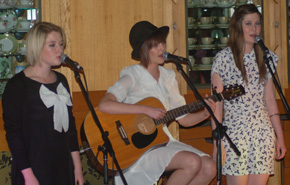 Students, teachers, parents, and past pupils of All Hallows' School in Brisbane, raised an outstanding $40,000 last year for Mercy Works Inc. projects in Papua New Guinea (PNG) and Pakistan.
In early 2008, students from Years 5 to 12 committed themselves to a year-long campaign of activities in support of a community health project in Kiunga, PNG, and an education project in Karachi, Pakistan.
The students called their campaign the "P & P Project". By concentrating on two projects, they felt the funds raised would make a significant impact in the needed areas.
The students' initial target of $20,000 was exceeded confidently. By year's end, they had raised $32,000 through countless raffles, cake stalls and concerts.
But according to All Hallows' Mission Coordinator, Angela O'Malley, the "P & P Project" did more than raise much-needed funds.
"By connecting directly with Mercy Works Inc., our students have been able to make a more personal connection with the two Sisters of Mercy who drive the projects in Pakistan and PNG.
"It has enabled the students to gain specific knowledge about the places and people who live in the communities where the funds raised will be used. This has given the fundraising efforts a very real context for our students; to see that they do have a role to play in terms of being a global citizen who can make a difference", explains Angela.
The students' efforts also inspired the support of parents from the school. After many hours of planning by a core group of three parent couples, "Cocktails for a Cause" was held at the Queensland State Library on October 18, 2008.
Over 100 guests were treated to an evening of cocktails and entertainment. Sister of Mercy, Maureen Sexton also delivered a powerful presentation about her work in Kiunga, in PNG's remote Western Province.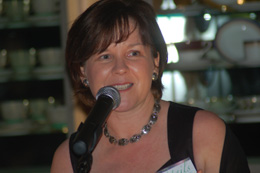 Catherine Zanetti (pictured right), a driving force behind "Cocktails for a Cause", said the evening was an opportunity to support what the girls were doing in their awareness and fundraising efforts for Mercy Works.
"Schools like ours tend to build ourselves up a lot – always looking for resources for the girls and making it better – [so the event] was a way of somehow giving out from the richness we have".
Following the success of "Cocktails for a Cause" which raised $6,000, the Past Pupils' Association of All Hallows' made a donation of $2,000 to Mercy Works.
Sister Rosie Carroll, Mercy Works Inc. Executive Officer, said the support of the All Hallows' School community was overwhelming. "I am extremely grateful to all who have been involved in the P & P Project."
Rosie acknowledged the leadership of Angela O'Malley, who "ignited a passion in the students for these projects".
"To have such an outcome, speaks to me of the quality of these young women – that they can commit themselves to such a momentous task with passion."
Photo credit: BCM