Archived News Item
All Hallows' 150 year celebration weekend
August 23, 2011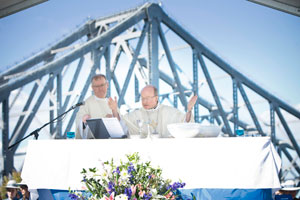 This news item focuses on our 150 year celebration weekend – 23 – 24 July. We were most fortunate to have beautiful weather throughout the weekend which enabled all our planned activities to proceed in glorious sunshine.
As you will see from the photographs, the weekend enabled our thousands of visitors to come together, reminisce, experience some of the curricular and extra-curricular offerings available at All Hallows' in 2011, and re-visit places that hold special memories. The 150 year mass on Saturday and the Concert on Sunday were particularly memorable highlights of a wonderful weekend. I will begin the newsletter with an edited version of the welcome I offered as we began our 150 year liturgy, followed by a selection of some of the many photographs taken over the weekend, and conclude with an expression of thanks to the many people who contributed to making the weekend such a success.
[In addition to our dignitaries and other special guests] I especially welcome the many Sisters of Mercy who have gathered with us today. When Mother Vincent Whitty and her companion sisters arrived in Brisbane on the 10th May 1861 and then founded All Hallows' on 1st December 1861, I am sure they could not have imagined how many young women would respond to God's call and follow them as Sisters of Mercy here in Queensland. Each person who has been part of this School community for the past 150 years, indeed all those people across Queensland whose lives have been touched by the Brisbane Congregation of Sisters of Mercy through education, health care, family services and in so many other ways, owe you an enormous debt of gratitude. We honour you and thank you…
Many stories will be shared today and we have also received some lovely messages and stories from those unable to attend. Catherine McAuley loved to tell stories and jokes and encouraged others to be willing to laugh at themselves. Some of our past pupil stories clearly reflect those same qualities, especially those about going up and down in the goods lift in a wicker basket only to meet Sister as they emerged at the bottom and the many lectures about boys and the dangers of eating red meat!… It is difficult to capture in a few words what it is that makes this School so special. I've chosen to use the words of Catherine McAuley: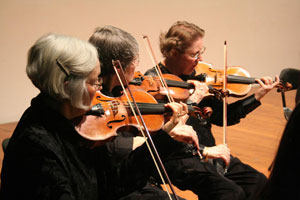 "No work of charity can be more productive of good to society or more conducive to the happiness of the poor, than the careful instruction of women, for whatever be the station they are destined to fill, their example and advice will always possess influence." To put this in contemporary terms, a core part of the mission of All Hallows' School is the empowerment of women to make a difference in our global community, especially for those who are most disadvantaged and marginalised. All Hallows' girls since the School's inception have made a difference, they have been challenged to excel, to develop their skills, learn new skills, to do the ordinary extraordinarily well, and to reflect in all that they do our Mercy values: respect, compassion, truth, responsibility, justice and loyalty. Over 24,000 students are All Hallows' girls; they have followed many different paths; many have achieved very public and prominent positions while others are less well known, but whether politicians or parents, scientists or social workers, artists or engineers, what has mattered most and reflects what it means to be an All Hallows' girl is how they have given witness to those Mercy values, have challenged injustice, and been prepared to stand out from the crowd rather than compliantly and meekly accepting the status quo.
In an address I listened to recently by Sr Mary Duffy, she described Catherine McAuley as a "feisty woman". To assist some of our younger students who may not be familiar with the word feisty, I did a Google search to see how such a word translates today – my search produced words such as spirited, game, energetic, courageous, even spunky! Catherine McAuley, Mother Vincent Whitty, founder of All Hallows' School, Mother Patrick Potter, the longest serving Principal of the School – they were all feisty women. They attracted other feisty women and wanted those they educated to have the same sort of feisty spirit that would drive them to make a positive difference in their world. Catherine said "speak as the mind directs and always act with courage when the mammon of unrighteousness is in question." Looking at past and present All Hallows' girls – I think our founders can rest comfortably that they have achieved that!
Catherine came to know the tender mercy of God expressed through others and that became a central tenet for her and for all who follow her. Being a tender expression of the mercy of God is what all who have ever been a part of this community are called to be. It is one of the ties that bind us. It has touched not only students but parents, staff and others associated with the School and has engendered such deep affection and enormous pride in us all. Your presence here today is indicative of your pride and special connection to All Hallows'.
This sense of connection is best summed up again in Catherine's words: "the blessing of unity still dwells amongst us and oh what a blessing; it should make all else pass into nothing…This is the true spirit of Mercy flowing on us"… In a world where there is so much fragmentation and disconnection, being a part of a stable, enduring, enriching and enlivening community is very special.
As we celebrate together today let us be animated by the kindling fire of Catherine's vision, a vision carried forward by Ellen Whitty, Patrick Potter, all Sisters of Mercy, and all people who make up the All Hallows' community. Let us be generous, passionate and courageous in Living Mercy in all that we do.
In conclusion, I would like to thank those many people who made special contributions to the organisation of our weekend celebrations: The members of the 150 year Organising Committee; all members of the All Hallows' staff; the All Hallows' students; our Mothers' Network and Parents and Friends Association, the Past Pupils Association and the many parent helpers; the staff in the Sisters of Mercy Heritage Centre; Archbishop John Bathersby and Fr Ken Howell; those with special roles in the Sunday 150 Celebration Concert; the Performing Arts Support Group, musicians, vocal and instrumental. We thank all Sisters of Mercy for their ongoing support and, in particular, the Congregation Leader and members of the Congregation Leadership Team. Finally, I pay special tribute to our Director of Mission, who has been the key co-ordinator of our 150 year celebrations, for her endless energy, enthusiasm, hard work, patience and calm throughout the many months of preparation, and to every person who has played a role, large or small, in helping with the events throughout this most significant year.
from Angela O'Malley
Director of Mission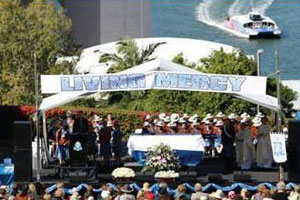 Under a clear blue winter sky, a crowd of more than 3000 enjoyed a Welcome Back to All Hallows' program to celebrate the School's 150 year rich heritage. On Saturday, a particularly moving moment to begin the Mass was the Procession of 150 including current students and past School Captains which wound its way across All Hallows' icon terrace overlooking the Brisbane River. A few tears of pride and joy were shed as the School's long history was expressed in this symbolic and visual way especially as 96 year old former School Captain Marj Douglas took her place in the procession.
The celebrations continued on Sunday with a stunning choral and orchestral concert by past and current students. The satisfaction for the many staff, parents and students involved in the organization of the day has no doubt been knowing that their efforts helped to create some very special memories that will now become part of the School's wonderful history.
A significant part of Sunday's concert was when the audience of approximately 900 guests were asked to pray together Catherine McAuley's prayer, The Suscipe. This was followed by it being sung by the past Pupil's Choir for the first time to a new music score composed by Head of Culture, Tim Sherlock. As I sat and listened to this prayer being sung so beautifully and reflecting on the many graces and blessings we had received for our celebration week-end, Catherine's words of trusting in God's providence took on a special meaning.
My God, I am yours for time and eternity,
Lord, I am yours for ever.
It's you who must teach me to trust in your providence,
Loving Lord.
A special thank you must go to all the students and families who contributed cakes and slices for Saturday. The response was outstanding and enabled us to host both the Saturday and Sunday refreshments in the true spirit of Mercy hospitality and generosity.
Dr Lee-Anne Perry Principal
from the All Hallows' School Newsletter – 22 – 26 July