Archived News Item
ADVOCACY – An ISMAPNG response
September 10, 2015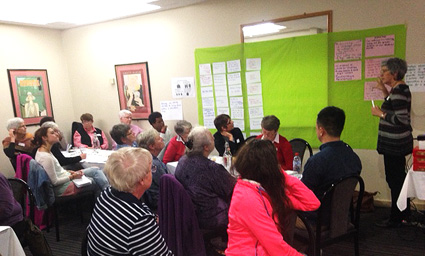 A workshop for the development of a framework for the work of Advocacy by ISMAPNG, hosted by the Institute Mission Team, was held on 15 August in Burwood, NSW. The gathering, facilitated by organisational and leadership development facilitator, Marg Endicott rsm, included around thirty participants from around the Institute, including Sisters and their partners in mission representing a number of ISMAPNG ministries.
The day began with introductions and welcome to country led by Anne McGuire rsm. Marg Moore rsm then set the scene for the gathering and outlined the purpose of the day and the outcomes we were hoping for:
To identify the essential elements of an ISMAPNG advocacy framework.
To work with a tool in order to develop advocacy strategies for ISMAPNG.
To determine the next steps needed in order to implement an advocacy framework.
Maryanne Loughry rsm, who is the Associate Director of the Jesuit Refugee Service Australia, invited participants to consider the unique core elements of a distinctive merciful response to advocacy. "We are impelled by a spiritual life, by the Gospels." According to Sr Maryanne, these responses are grounded in practical works and motivated by an awareness of injustice from the front lines, they are considered and informed (politically and theologically), moved with compassion, loving kindness and mindfulness, and widely collaborative. "We bring a way of networking that enables us to share each other's story," she said.
Communications Manager of ISMAPNG, John Rochester, shared a best practice advocacy capacity-building model in light of his experience as a political advisor and campaign manager. John introduced a 6-step model around strategic preparation, establishment, development and evaluation of advocacy activity.
Facilitation of the beginnings of an ISMAPNG advocacy framework ensued into the afternoon, with discussion around questions including:
• What do we as an Institute define as advocacy?
• Why do we do advocacy?
• How do we do advocacy (which processes and methods)?
• What are the levels of advocacy we need to address?
• Who needs to be involved in each level of advocacy?
• Where does advocacy fit within our organisational structures?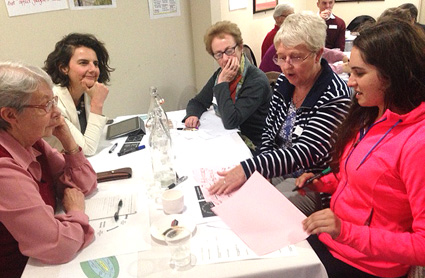 The next steps of forming the framework will involve condensing the insights and reflections from these table discussions to establish the essential elements of Mercy advocacy, with ongoing reflection by the group before the next round of discussions.
The prayerful closure to the day was led by Gaye Lennon rsm who invited us into silence to reflect back on the work we had done together as we listened to the music from the sound track of the film 'The Mission.' The closing song 'Tears of God' was a reminder of the 2014 Institute Mission gatherings and the emerging call to deepen our engagement in advocacy across our ISMAPNG Mission.
Messages to: Sally Neaves
Sustainability Educator – Rahamim Ecology Centre, Bathurst.
Website: http://www.rahamim.org.au/