Archived News Item
Adjusting to a new life in Australia
October 30, 2010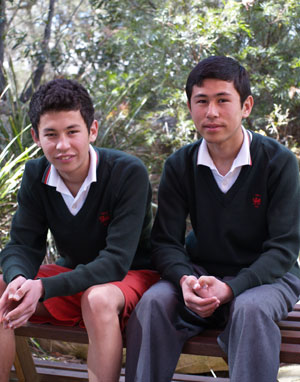 Having fled their homes to escape persecution or conflict, many refugees face another set of challenges in their new country. For young refugees like David and Mohammad (pictured right), the transition into Australian school life is often overwhelming. But Mercy Works Inc.'s Classroom Connect project is helping to lessen the load.
WORDS BY Stephanie Thomas
For 14-year-old David and his brother Mohammad, 15, their journey to and from school these days is no longer filled with the fear of being abducted or killed by the Taliban.
David recalls how they and other children from their village in Afghanistan would walk to school in a large group rather than in twos and threes, in an effort to reduce the chances of being taken by the Taliban. For them it was a case of safety in numbers.
It's just one chilling example of why the boys had to leave Afghanistan, a country they still love and miss.
Born in a rural and mountainous area, south of Kabul in the mid-1990s, David and Mohammad came to Australia with their mother as refugees in 2007 to join their father who had arrived a few years earlier. They are Hazaras, an ethnic group from Afghanistan that has suffered persecution, violence and death, especially at the hands of the Taliban.
When the boys first arrived in Australia after a protracted period travelling between Afghanistan and Pakistan, they settled in Griffith, a country town in south-western NSW. But tragically, within a year, their mother suffered a stroke. She was air-lifted to hospital in Sydney and because of her condition, the family relocated to Sydney soon after.
"She was lucky," says David, "because in my country if someone has a stroke they die straight away, but in Australia they have number one doctors."
While their mother has not fully recovered, David and Mohammad say she is improving slowly. Their father, who worked as a mechanic in Afghanistan, is now the main carer for his wife.
Like many young refugees, David and Mohammad's education has been severely disrupted. Afghanistan's extreme weather conditions restricted their attendance at school and so did the terrorising activities of the Taliban, who seek to keep Afghan children uneducated.
David says the Taliban would deliver threatening notes instructing schools to close otherwise they would be bombed. So the schools would close and everyone would go home, missing classes sometimes for long periods of time.
An under-resourced education system meant the boys' school experiences were far from ideal. Overcrowded classes were led by one teacher who taught two subjects: Dari (a dialect of Farsi) and mathematics. Both brothers describe the experience as punitive and unenjoyable.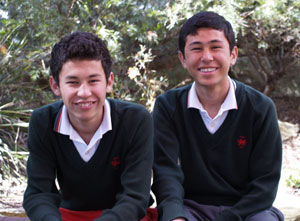 "School was a bit scary, says Mohammad. "If you write one word wrong, they'll hit you; you do silly thing they'll hit you. They give you a lot of punishment."
For Mohammad the difference between school in Afghanistan and Australia is striking: "Here it's more freedom," he says. "We learn more better here. They teach you more easily and soft so that you learn better."
But the boys' education experiences in Australia have not been without some difficulties. Before their current placement at Menai High School in Sydney – which they are thoroughly enjoying – David and Mohammad attended three primary schools and two Intensive English Centres.
"That was tough for them," says Corrine Nelson, who has been working with the boys individually each week since April this year as a volunteer with Mercy Works Inc.'s Classroom Connect project.
Corrine is one of 31 Classroom Connect volunteers providing refugee students from various Sydney secondary schools with additional support and mentoring as they make the often difficult transition into Australian life.
Both boys acknowledge that learning English has been a major challenge but they are enjoying their educational experiences at Menai and are very grateful for the school's and Corrine's help.
"Initially, we worked a lot on organisational skills. Often they wouldn't have the right equipment," explains Corrine. "Now it is mainly assisting them with English, grammar and interpreting assignments.
"A lot of my work is deciphering information and presenting it in a simplified form so the boys can get their heads around it."
Corrine says David's and Mohammad's confidence has grown over the last few months. When they first started they were "very quiet" but are now "much more talkative" and seek out her help.
"Even though they're finding the work challenging, they're enthusiastic about what they're learning which is a lovely thing to see. Sometimes I look at the assignments that they've been given and I think, 'where do we start here?' Yet they never ever say 'I can't do this'. They're so determined to have a go at whatever has been thrown at them."
For Corrine, getting involved in Classroom Connect has been a rewarding experience. "I've really enjoyed it," she says.
"I look forward to going to see these boys, seeing what they're up to each week… It's really good to see these boys thriving after having some really difficult times… They're doing so well."
About Classroom Connect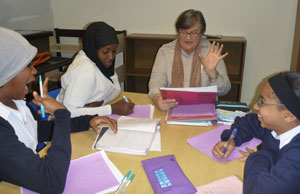 Classroom Connect is a resourceful project which recruits and trains volunteers to provide young refugees with one-on-one educational support and mentoring, helping them to develop confidence and skills at a critical time in their settlement in Australia.
Mercy Works Inc. launched Classroom Connect in 2008 with 10 volunteers working in three Sydney schools. This year the project has grown to include 31 volunteers supporting 170 young refugees across nine Sydney schools.
These schools are Bankstown Senior College, Bethlehem College Ashfield, Canterbury Girls High School, Catholic Intensive English Centre Lewisham, Holy Spirit College Lakemba, Mary MacKillop College Wakeley, Menai High School, Patrician Brothers College Fairfield, and Trinity College Regents Park.
Next year the project will begin in Melbourne.
FACTS: Refugees, asylum seekers and internally displaced persons (IDPs)
At the end of 2009, there were 43.3 million forcibly displaced people worldwide due to conflict and persecution, according to the United Nations Refugee Agency, UNHCR. This is the highest number since the mid-1990s.
Of these 43.3 million people:
15.2 million were refugees,
983,000 were asylum seekers, and
27.1 million were internally displaced persons (IDPs).
In 2009, one out of four refugees in the world was from Afghanistan (2.9 million) and 41% of refugees and asylum seekers were children under 18 years of age.
Difference between refugees, asylum seekers, IDPs?
The 1951 Refugee Convention (to which Australia is a signatory) establishing the UNHCR defines a refugee as someone who "owing to a well-founded fear of being persecuted for reasons of race, religion, nationality, membership of a particular social group or political opinion, is outside the country of his/her nationality, and is unable to, or owing to such fear, is unwilling to avail himself/herself of the protection of that country".
Refugees are people who have been determined by the UNHCR, the Australian Government or another government as meeting the criteria for refugee status as set out in the Refugee Convention.
Asylum seekers are people who have applied for protection and are awaiting a determination of their status. Not all asylum seekers will be determined to be refugees.
Internally displaced persons (IDPs) are often wrongly called refugees. Unlike refugees, IDPs have not crossed an international border to find sanctuary but have remained inside their home countries.
Sources: www.unhcr.org and www.refugeecouncil.org.au
You can support Mercy Works Inc.'s community development programmes online or by contacting us on (02) 9564 1911.