Archived News Item
Adelaide's Judith Redden Centre opened
May 29, 2008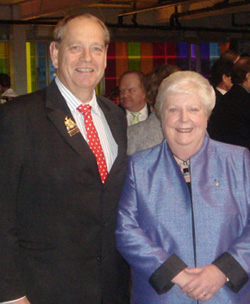 A new state-of-the-art education centre at St Aloysius College (SAC) in Adelaide was opened recently and officially named after Adelaide Sister of Mercy, Judith Redden. Judith, who has been principal of the College for the past 25 years, is well known in the community as a distinguished educator and a courageous champion for the disadvantaged.
Writing about the opening in the May 16 edition of the College newsletter, Sister Judith said, "There was an enormous buzz of excitement last Monday night when 1,000 people gathered in our new entertainment space to celebrate the opening of our spectacular new facilities.
"Visitors were overwhelmed by the size and beauty of the building. I'm sure we'll be conducting many tours of the Centre as the word spreads!
"Our students were magnificent, shining as singers and musicians, welcoming guests on their arrival and serving supper.
"The speeches were informative and thought-provoking. Dr Deirdre Jordan, Chancellor Emeritus of Flinders University and Principal of SAC from 1954 to 1968, officially opened the building with the following inspirational address."
DOWNLOAD THE ADDRESS BY DR DEIRDRE JORDAN HERE.
Photo caption: Sister Judith Redden RSM with the Lord Mayor of Adelaide, Michael Harbison.
About St Aloysius College. Established in 1880, St Aloysius College is a primary and secondary Catholic girls' School, with a student population of about 950. The school is located in the centre of the city of Adelaide, South Australia and is administered by the Sisters of Mercy, Adelaide.
From: Sister Bernadette Marks (Local Communications Facilitator, Adelaide)