Archived News Item
Adelaide sister presents Australian ambassador to Argentina with uni award
March 1, 2007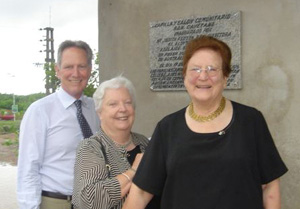 Adelaide Sisters Deirdre Jordan and Judith Redden visited Argentina late last year to represent their congregation at the 150th anniversary celebrations of the Sisters of Mercy in Argentina. While there, Deirdre, in her capacity as Emeritus Chancellor of Flinders University, presented Australia's Ambassador to Argentina, Mr Peter Hussin with a Distinguished Alumni Award. In addition to his position as Ambassador, Mr Hussin has supported projects in Argentina organised by Australians, one of which is a project sponsored by Adelaide's St Aloysius College.
Sister Deirdre Jordan RSM AC MBE, (Emeritus Chancellor of Flinders University) reports.
Mr Peter Hussin is the Ambassador of Australia to Argentina, having previously held posts in the Netherlands, Tokyo and London as well as being Permanent Representative to the Organisation for the Prohibition of Chemical Weapons. He is an old boy of Sacred Heart College, Adelaide and a distinguished graduate of Flinders University being one of their first students. His achievements as a Diplomat were recognised by Flinders University when I presented him with an award granted when Flinders celebrated its 40th birthday in 2006. The award recognises the outstanding careers and commitment to community service of its distinguished alumni.
In addition to his position as Ambassador, Mr Hussin has supported projects in Argentina organised by Australians. Among these is a project sponsored by St Aloysius College, a project spearheaded by the efforts of Mr Craig Evans and the staff and students of the College.
The Sisters of Mercy who administer St Aloysius College were founded from Argentina by Sisters of Mercy who left Buenos Aires in 1880 at a time of anti-clerical uprisings. A group of 24 sisters came to South Australia, 12 to Adelaide and 12 to Mt Gambier. Subsequently, 6 sisters returned to Argentina to refound the congregation there. In 2006 they celebrated their 150th anniversary.
The staff and students of St Aloysius College have a great interest in the works of the Sisters of Mercy in Argentina and in the school that they operate, St Ethnea. These students also support Craig Evans in one of the very poor barrios where families live in shacks without water and without any infrastructure of social services.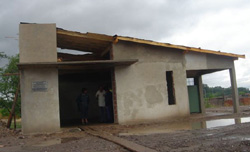 On December 17, the Ambassador and Sister Judith Redden, Principal of St Aloysius College, opened a building funded by the College which will be a community centre for one of the barrios. Eventually it will house a very small centre for ophthalmology and gynaecology and for teaching, as well as providing a centre for a dining room and Mass. Water is being made available for 250 families in the area.
The Ambassador and his wife, Muriel, were delighted to lend their support to the project and ploughed through deep mud to attend the ceremony for the opening.
The Ambassador and his wife had a further appointment in the afternoon to attend one of the projects of the Argentinian Sisters of Mercy for women and children and to give their labour in order to make the centre more attractive by cutting the lawn, tidying the garden and giving an undercoat to the wall. Later in the week, others would come and paint murals to make the place more attractive and full of colour and provide a bright spot for the Argentinian Sisters' project.
The Ambassador's wife, Muriel, is the President of the Association of the Wives of the Ambassadors in Argentina. They too are committed to providing help to selected projects. The Association identifies needs and raises money to make contributions to urgent requests.
We should be very proud of the Ambassador and his wife and their commitment not only to their very high profile position, the representation of Australia in Argentina, but also to their commitment to the poor in a developing country, and their extraordinary commitment to social justice.
Students from St Aloysius College have visited Argentina on several occasions. Led by Mr Evans and key members of staff, they have experienced at first hand the poverty and neglect of the extreme poor living in dreadful conditions. The poor find a dwelling wherever they can along railway lines, along the banks of rivers, wherever land is not owned by individuals.
The experience of working with the poor has had a transforming effect on the students of St Aloysius College who have taken part. It has not only made them aware of the problems faced by others, but also made them aware of the gift they have of supportive families who do all they can to prepare them for a life that is not only fulfilling for themselves but also is one where they are aware of the need of service to others. It is a transforming experience; an experience fully supported by the Ambassador.
Photos:
1. Mr Peter Hussin with Sisters Judith Redden and Deirdre Jordan outside the new community centre in Argentina.
2. Work in progress on the community centre.
Messages to: Sister Bernadette Marks (Local Communications Facilitator) bjmarks@senet.com.au