Archived News Item
Adelaide sister admitted to bar of SA Supreme Court
July 16, 2009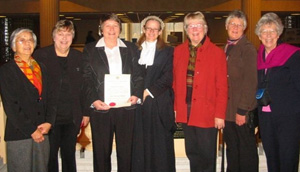 Congratulations to Adelaide Sister of Mercy, Mary Symonds RSM, who was admitted into practice as a barrister and solicitor of the Supreme Court of South Australia on July 13, 2009.
Mary is now qualified in two legal systems: Canon Law of the Church and Civil Law of South Australia.
Mary's admitting counsellor was Jo Milne. Jo is a practitioner in the South Australian Catholic Education Office legal team where Mary has employment.
Her admission was attended by Sisters Meredith Evans, Helen Densley, Katherine Conley, Patricia Pak Poy and Patricia Feehan.
From: Sister Patricia Feehan RSM