Archived News Item
Adelaide Mercy successfully defends PhD
July 15, 2010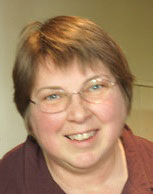 Congratulations to Janette Gray RSM (Adelaide), pictured right, who has successfully defended her PhD thesis at Cambridge University on the French Dominican Marie-Dominique Chenu's theology of the human person.
Chenu was a significant contributor to the reforms culminating in Vatican II, a promoter of the laity's role in the Church and of women's unique contribution to society and Church, an instigator of the worker-priest movement in France, and teacher and mentor of Yves Congar, Edward Schillebeeckx, Matthew Fox and Gustavo Guttierrez.
Currently, Jan lectures in systematic theology at the Jesuit College of Theology in the United Faculty of Theology, Melbourne. She was educated at Macquarie University, Melbourne College of Divinity, and Cambridge University. She previously lectured at Notre Dame University (Fremantle WA), Murdoch University (WA), Edith Cowan University (WA), and at the Margaret Beaufort Institute of Theology, Cambridge (UK).
Jan's teaching areas are the theology of the human person, Church, the interface between Church and contemporary society, Church and social responsibility, feminist theology, and Christian-Muslim relations.