Archived News Item
ADDRESSING GENDER INEQUALITY IN PAPUA NEW GUINEA
March 9, 2016
On 8th March women throughout the world celebrated International Women's Day. This year the theme is "Planet 50-50 by 2030: Step It Up for Gender Equality".
Gender inequality remains a major development challenge in Papua New Guinea (PNG). Violence against women is unacceptably high and PNG's systems of family and community relationships often exclude women from leadership and decision making roles.
Mercy Works is engaged throughout mainland PNG, in both highland and lowland areas. In 2012 the government introduced the Tuition Fee-Free Policy that saw an influx of students into a system without adequate resourcing and infrastructure. The Mercy Works Education Program aims to address and support access to educational opportunities for students, teachers and those involved in the informal education sector. The generosity of one of our major donors has enabled access in areas previously with little to no support.
Living in a remote village means the journey to school can be long, tiring and dangerous. Girls in particular can be exposed to violence and the terrifying but common threat of rape.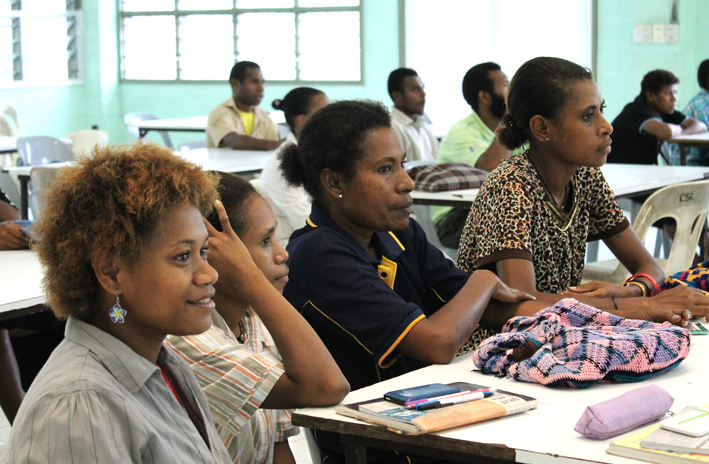 The Mercy Works Access to Education Project, involves building boarding facilities for over 200 high school students in three schools in remote areas. These dormitories will play a huge role in ensuring students are safe, healthy, well-fed and in a fit state to learn when they arrive in class.
The project, will also work to provide access for students to attend University, Teacher's College, Nursing College or Technical College. The focus will be on girls, (although not exclusively), who have potential but limited or no access to such opportunities because of lack of financial support. Presently, students miss out because they come from remote areas or their families are subsistence farmers with little cash or urban settlement dwellers with little or no source of income.
Through this Access to Education Project, Mercy Works is also playing a small but significant role in addressing two of the Sustainable Development Goals: Goal 4: Ensure inclusive and quality education for all and promote lifelong learning and Goal 5: Achieve gender equality and empower all women and girls.
To find out more about Mercy Works programs in PNG, Timor-Leste and Australia visit Mercy Works website or Like us on Facebook: Mercy Works Facebook Page
Messages to: Mercy Works – Margaret Coulter