Archived News Item
ACU honours Ballarat sister's 25 years of service
August 31, 2006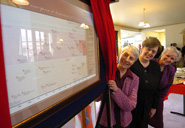 The contribution of religious congregations to the Australian Catholic University was formally acknowledged yesterday with the unveiling of a new timeline marking important events in its history.
Members of the founding religious orders and several senior staff from ACU campuses around the country gathered at the Ballarat campus for the unveiling ceremony.
It was 15 years ago the ACU decided to merge its campuses under the one banner, but organisers said the work done by previous religious orders must not be forgotten in the process.
Vice-Chancellor Professor John Gorman said important events in the institutions history would not be forgotten. "When we came together it was a bold initiative. It wasn't something we had ever considered before but the people who had that vision and a vision back in the 1800's won't ever be forgotten," he said. "It is important to recognise where we came from and how we got to this point today."
Ballarat campus rector Associate Professor Dr Anne Hunt said the last 15 years had been a challenge but ultimately worth it. "It has been a time of growth, time of challenges and time of difficulties," she said. "We now have greater resources, greater infrastructure and we couldn't enjoy any of it without the religious orders we had behind us."
Also celebrated was 25 years of service to the university by Ballarat Sister of Mercy, Dr Mary Nuttall. Dr Nuttall said her enthusiasm for teaching had not waned. "It has been a life giving vocation for me," she said.
Article and photo courtesy of The Ballarat Courier, Wednesday, August 23, 2006.