Archived News Item
ACTIVITIES AT RAHAMIM
May 19, 2016
SPIRIT OF RIVER PILGRIMAGE

Recently a group of us piled into a couple of mini buses and a small fleet of cars to visit points of interest along the Macquarie River (in Bathurst, NSW), known for thousands of years as the Wambool. The tour was organised by the Rahamim Ecology Centre, a ministry of the Institute of the Sisters of Mercy of Australia and Papua New Guinea, and led by environmentalist John Fry and Aboriginal elder Dinawan.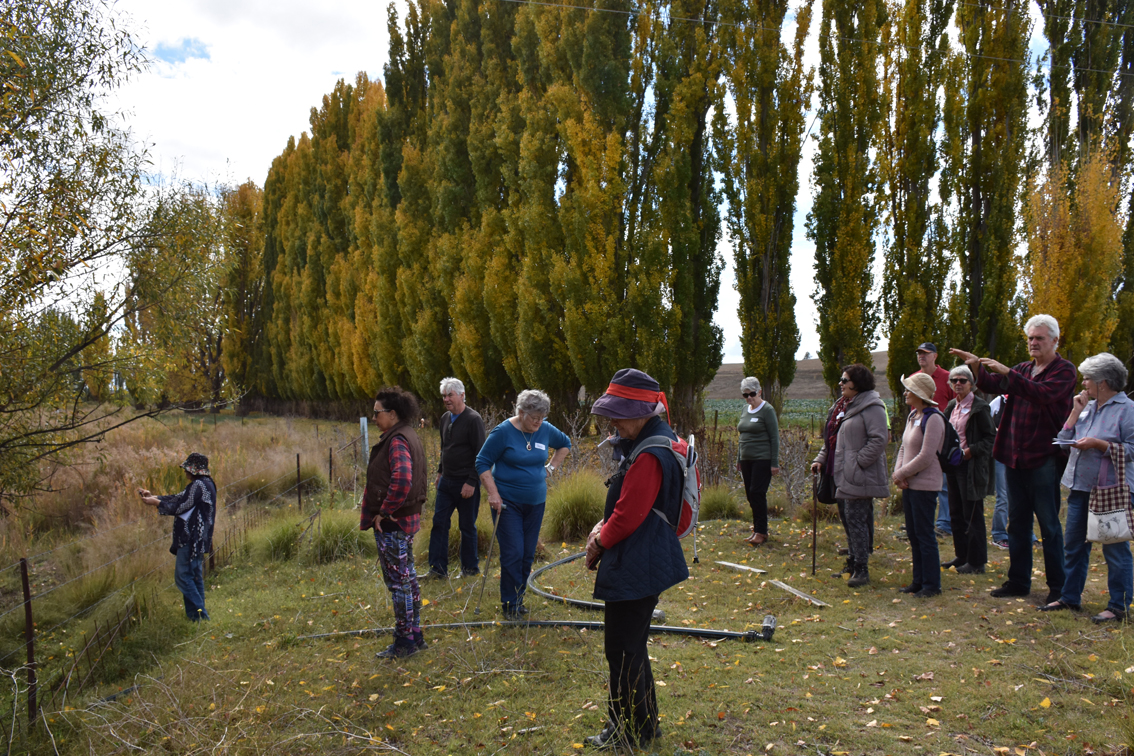 In her introductory remarks, Sr Patricia Powell rsm said there was a difference between "knowing" the river and "knowing about" the river. To "know" something or someone comes through repeated contact over time. I know my sister; I know how to drive a car. You can know "about" something by reading about it in a book or having someone mention it in conversation. The first kind of knowing is a soaked-in knowing; the other kind can evaporate without practice or contact.
Our tour of the river was to get to know it better by spending a little time with it, listening to the wind through the casuarinas, the sounds of crickets and frogs, noticing its different colours and flows. At each point of interest, we all fell silent for a moment just to listen. Just doing this, with others, was a very moving experience.
We began our tour at White Rock, near the confluence of the Fish and Campbell Rivers. The meeting of the rivers was also a meeting place for Aboriginal people in times gone by, a place for marriages and to work out disputes. We continued through cabbage-growing country, stopping on the opposite side of the river off Montavella Road, a place I know well because it's where I take my dog for swim.
We looked at steep, eroded gullies that once held water more gently; we heard about the stumps of the giant casuarinas that used to follow not just the main river course but the smaller tributaries; we heard about hunting parties in the 1920s that would come back with hundreds of platypus that were there for the taking. We heard about the giant cod that used to be here; an abundant supermarket that supported life for aeons.
We made out way through town and out to Raglan Creek and the old brick pit favoured by migratory birds. We looked at the reeds that filter water naturally. Instead of diverting 10 mega litres a day of treated water to a gold mine, as has been proposed, John Fry suggested the water be brought to a carefully constructed wetland here, where it could soak into the ground and restore a little of the river to something like its former glory.
Written by Tracy Sorensen
Tracy is Secretary of Bathurst Community Climate Action Network and a local resident journalist who participated in the program. For more information visit www.bccan.org.au.

OUR COMMON HOME – COLLABORATING TO MEET THE ECOLOGICAL CRISIS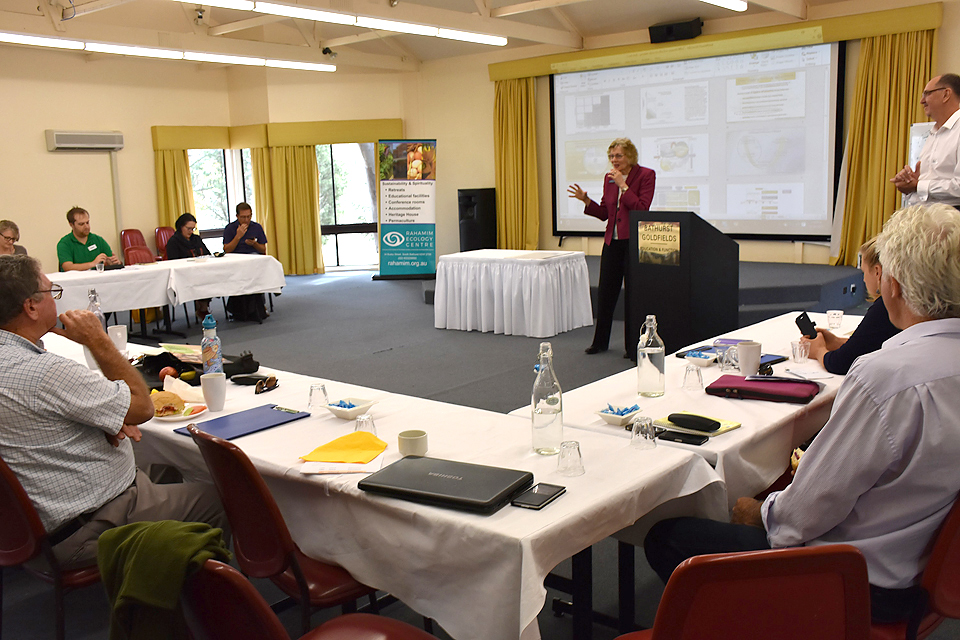 "Our Common Home", the inaugural Calare Eco-Summit (in Central-West NSW), designed to connect all organisations concerned about ecological issues in our electoral region, was recently held in Bathurst, NSW, hosted by the Rahamim Ecology Centre in conjunction with a number of other ecological organisations. This is the first in a series of summits of its kind. Inspired by the 2015 encyclical letter on ecology and climate by Pope Francis "On care for our Common Home", the summit sought to demonstrate how diverse organisations (such as community groups, ecologists, local government and faith/spiritual organisations) could better take up our shared responsibilities for the Earth community.
Rather than create another 'umbrella' organisation, the aim was to find synergy, responding to the question "What can we do together that we cannot do alone?" The program, facilitated by Roz Townsend and Neil Davidson, enabled 18 organisations to get to know each other, to create confluence, coherence and smarter collaboration to better face our region's climate, energy, biodiversity, water, waste and land management challenges. World Café discussions generated deeper resonance, enabling conversations between diverse individuals and organisations, especially around the question "What conversation, if begun today, could ripple out in a way that creates new possibilities for the future of our region?" Some examples of topics that arose include:
• The power of conversations to shift awareness
• Creating a framework to create conversations of the future, spreading ideas and networks for a better outcome
• Changing approach to issues from "Challenges" to "Opportunities"
• Experiential education: the impact of hearing from practitioners on site in the field that can be applied in 'real' life
• Galvanising individual voices, who experienced disruption, into united groups
• Developing a regional vision for adaptation and building resilience for climate change, in spite of our political environment
• Controlling our destiny: getting Bathurst self-sufficient for food and off the national energy grid.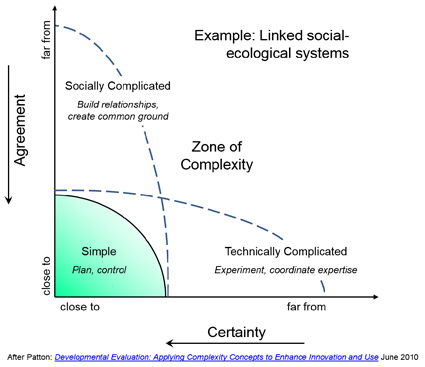 The group explored issues, exemplars, barriers and possible ways of advancing these topics. Some diagrams helped explore the dynamics of coming together across difference and getting past the often incomplete and sometimes stereotypical assumptions about where an individual or organisation might be 'coming from'.
Through introductions to Neil Davidson's systems thinking, participants recognised the need for a greater collective 'systems understanding' if we are to come together around common purpose/s – at any of many scales: project, city, bioregion – to regenerate environments and codesign viable futures.

There was a collective realisation that we each need to permit ourselves and others to 'be complex' – in order to bring our whole selves to be present in systems context – this needs safe spaces, trust-building toward trust-worthy relationships, and a bit of assistance to allow coherence to build in systems context.

This diagram about the nested relationships involved in stewardship helped inform some of the future directions with this and a broader set of stakeholders.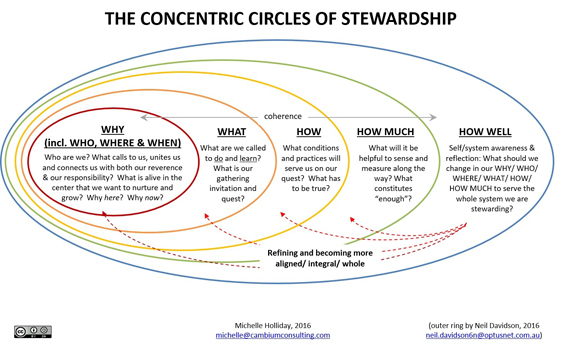 The Eco-Summit was planned by a steering committee comprising members of Bathurst Climate Change Action Network, CENREC, Skillset, Bathurst Regional Council, Greening Bathurst, Bathurst Wholefood Co-operative, Bathurst Goldfields, Charles Sturt University and Rahamim Ecology Centre.