Archived News Item
Act now or region will lose fight against climate change, report warns
October 26, 2006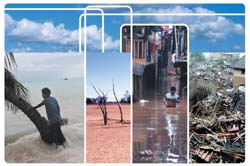 Efforts to end poverty among our poorest neighbours will fail unless the Australian Government takes urgent action to tackle climate change and prepares for its effects, warns a recently released report by a new coalition of aid, development, church and environment groups.
The two-part report, which includes research by the CSIRO as well as policy recommendations, finds millions of people in the Asia-Pacific region will be forced from their homes by sea level rises of up to 50cm by 2070, with hot spots including Bangladesh, India, Vietnam, China and small Pacific island states.
You are urged to read the report at http://www.ccdr.org.au
A Request from 'Pacific Calling Partnership'
The Pacific Calling Partnership was set up on May 30, 2006 when members of the Good Samaritan Sisters, Christian Brothers, the Edmund Rice Centre, Missionaries of the Sacred Heart, Marist Missionary Sisters as well as people who have worked in Kiribati came together to express their concern about the effects of climate change on low-lying Pacific nations.
This initiative began because the people of Kiribati asked for support in their struggle and because the Churches of the Pacific have asked the Churches in the industrialised countries to hear their call. Some islands in PNG have already become uninhabitable and storm surges and rising waters will make soil useless for growing staple foods like coconuts and breadfruit on many other islands including Torres Strait Islands, Tuvalu and Kiribati.

In September 2006, the ACLRI (Australian Conference of Leaders of Religious Institutes) joined the partnership and Bishop Peter Ingham has become a patron of the partnership.

Kiribati is a tiny nation of 33 small islands scattered around the equator with a population of about 100,000. In many ways it looks like a tropical paradise – white sandy beaches, picturesque shallow lagoons surrounded by palm trees and traditional huts. The waters are warm and teaming with an abundance of sea life which provides the major source of their sustenance. Daily life in Kiribati revolves around the sea. But this paradise is on the edge of a volatile and uncertain future.

Extreme tides and wild seas are already impacting on these low-lying islands – the highest point on most islands is no more than 2 metres. As Kiribati is vulnerable to flooding from the sea and contamination of its fresh water by seepage from sea water it will become uninhabitable long before the land is submerged.

The green-house gases Australians generate affect Kiribati. WE have the power and influence to slow down climate change and support our neighbours as they face their uncertain future. We need your help. We need people who will write letters to members of parliament expressing their concern.
If you are interested in being a part of this initiative please contact Jill Finnane, Co-ordinator Earth Charter Project, Edmund Rice Centre on Email: erc@erc.org.au