Archived News Item
Acknowledging the keepers of the Mercy story in WA
September 27, 2007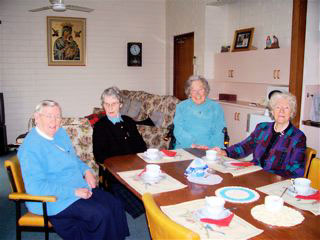 Sister Joan Smith (Local Communications Facilitator, Perth) speaks to two Sisters of Mercy from the Perth and West Congregations who recently retired from their role as congregation archivists. Joan discovers that for these two women, keeping the story of the congregations was one of deep love.
When Sister Anna Maria O'Shea (Perth) and Sister Norma Schiekowsky (West Perth) were asked to work as congregation archivists, their replies had a similar thread.
"Yes, I will do my best to 'take on' the archives, said Anna Maria O'Shea, replying to the request to become involved in the archival ministry 20 years ago. "However, I'll have nothing to do with computers!"
Norma added that she too felt "averse" towards the computer and resisted them for quite a long time. However, at the age of 82 she realised that if she continued in this work she loved, she would need to venture into this new world of technology.
Now these two women are highly computer literate. They record, write documents, communicate via the internet, and search out websites with the greatest of ease. Anna was heard to say recently, "I was reading this online in The Irish Independent. You know, I open it up before they do at home in Ireland."
These two sisters, along with their very capable assistants, Sister Scholastica Hartnett (West Perth) and Sister Joy Ryan (Perth), had been presented with a 'token of gratitude' from their respective congregations for their dedication in establishing the archives at Victoria Square and Northbridge. Joy joined Anna in 1987, while Scholastica joined Norma in 1989, and finished on her ninetieth birthday.
With the average age of the four sisters now being 88, this was very much a 'second career' in which they invested so much energy and professionalism. They leave behind for new lay archivists an archives that we in both congregations can boast about with pride.
Bringing together four sister–archivists for a cup o' tea brought forth many stories. They all agreed that they enjoyed the phone calls from relatives looking for details of a long lost aunt of a Sister of Mercy or, someone looking for information about a beloved teacher.
It wasn't a job in a stuffy downstairs room. It started many conversations with a wide variety of people and opened up challenges to search out material and keep records that future generations may seek and enjoy. They agreed that the spectrum of their work was so wide it was impossible to pinpoint the most interesting.
Listening to these sisters it was obvious that keeping the story of the congregations was one of deep love.
They all agreed that they had learnt so much in the discoveries they made – the sister buried outside the Mercy section of the cemetery and "brought home"; all the research of the early story; and the stories told in the various community annals.
The presentation event was a mixture of sadness and joy – sadness that we would no longer have these sisters to "keep our story" and joy that they were now receiving their reward of some spare time knowing that their service has been deeply appreciated.
From: Sister Joan Smith (Local Communications Facilitator, Perth)
Email: joanis@ozemail.com.au