Archived News Item
Achieving the MDGs is everyone's responsibility
October 30, 2010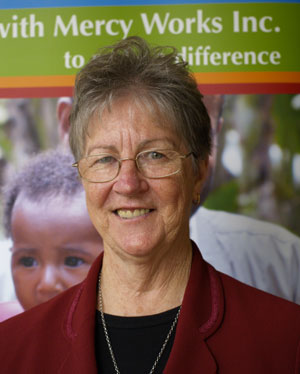 At the Millennium Summit in September 2000, world leaders committed their nations to the Millenium Development Goals (MDGs), a 15-year plan of action to combat extreme poverty, hunger and disease.
In September this year, a decade on from that historic declaration, United Nations (UN) Secretary General Ban Ki-moon hosted a three-day summit of world leaders in New York to review progress, identify gaps and accelerate progress to achieve the MDGs by 2015.
In the last ten years progress toward the MDGs has been hindered. The global financial crisis has impacted significantly, but so too have natural disasters, war and conflict in many parts of the world.
Despite serious setbacks, some countries have achieved major successes, but the UN and other agencies report that progress has been uneven, and without additional efforts, several of the MDGs are likely to be missed by many countries. This scenario is highly likely for our close neighbours Papua New Guinea (PNG) and Timor Leste.
Disturbingly, PNG is currently off-track to meet most of the MDGs, while Timor Leste, having made important progress towards some of the goals – notably universal primary education and the empowerment of women – needs greater support to fulfil others. Of particular concern for Timor are the MDGs relating to child mortality and maternal health.
The UN MDG Summit concluded with the adoption of a global action plan to achieve the eight anti-poverty goals by their 2015 target date and the announcement of major new commitments for women's and children's health. These commitments, particularly the renewed focus on maternal and child health, are welcomed by Mercy Works Inc.
"Between now and 2015, we must make sure that promises made become promises kept," said Ban Ki-moon in his closing remarks to the summit. "The consequences of doing otherwise are profound: death, illness and despair, needless suffering, lost opportunities for millions upon millions of people."
These are sobering words, but if we do not heed them, we are all diminished. As Ban Ki-moon said, "None of us can be truly fulfilled while so many lack the basics for a life in dignity. None of us should be able to rest easy knowing the fear and despair that pervade the human family."
As an agency committed to revealing God's mercy in an often unjust and merciless world, we at Mercy Works Inc. will continue to do what we can to achieve the MDGs. But we need your continued collaboration. As Ban Ki-moon has said, "Meeting the Goals is everyone's business".
In this edition of The Bilum, which also includes our Annual Report for 2009-2010, we report on a number of initiatives that are tangible expressions of our commitment to the elimination of extreme poverty in PNG, Timor Leste, Pakistan and Australia. I hope you will be informed and inspired to act!
For your support in 2010 of Mercy Works Inc. and the many communities we work with, I offer my deep gratitude. And as we move into the seasons of Advent and Christmas, may you be open to the blessings they offer.
Rosemary Carroll RSM
Executive Officer
You can support Mercy Works Inc.'s community development programmes online or by contacting us on (02) 9564 1911.