Archived News Item
A VOICE FOR THE STATUS OF WOMEN
March 8, 2016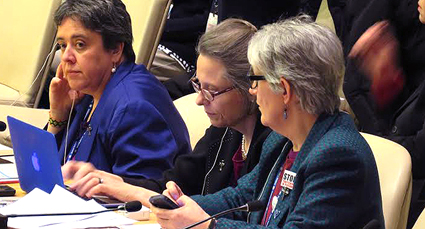 On the 8th September, 2015, Angela Reed rsm (ISMAPNG South C Community) began a nine month Residency with the Mercy International Association Global Action Office at the Mercy United Nations Office in New York City. Angela's recent involvement in her work with the Global Action Office can be read HERE. She has also recently prepared a document for the United Nations Commission on the Status of Women in March 2016.
Angela brings a great deal of expertise to this area of work. Trained as a primary teacher, Angela joined the Sisters of Mercy in 1994 and made her final profession in 2002. After completing a Bachelor of Theology and gaining qualifications in counselling she coordinated a women's safe house in Melbourne for women and children escaping family violence. During this time she became a passionate advocate for women's safety and security and worked to ensure that the issue of family violence became a public issue. In 2008, Angela was awarded a Vincent Fairfax Fellowship in Ethics and Leadership through St James Ethics Centre in Sydney. This gave her entry into Southeast Asia where she began to explore the issue of women trafficked for sexual exploitation in Cebu, Philippines. In 2010 she completed a Masters in Social Work and then moved into research on women trafficked for sexual exploitation. In 2014 she was awarded a PhD for her thesis which challenged stereotypical understandings of trafficking and gave a voice to young women trafficked both within the Philippines and Internationally.

During the past few weeks an official statement by the international Association of Sisters of Mercy, written by Angela has been included in the UN Official Documentation for the upcoming Commission on the Status of Women to take place at the United Nations Headquarters in New York from 14 to 24 March 2016. Following this development, Sr Aine O'Connor, Mercy Global Action Coordinator in an email to the Institute said:
We are delighted with the quality and calibre of this year's submission. This would have been impossible to deliver if you all had not so graciously encouraged and supported Angela to use her gifts in service of our work here at the UN. Thank you to Angela for doing an excellent job on this submission!
We wish Angela and all at Mercy Global Action well in their endeavours at the United Nations.
Messages to: Angela Reed rsm
The submission can be seen HERE
Information on the Commission on the Status of Women can be read HERE
Information on the 60th session of the Commission on the Status of Women can be read HERE

Photo:
L-R: Angela Reed rsm (Resident, Mercy Global Action) Aine O'Connor rsm (Mercy Global Action Coordinator at the UN), Winifred Doherty RGS (NGO Representative at the UN of the Congregation of Our Lady of Charity of the Good Shepherd).
Source: MERCY E-NEWS Photographer J. McDermott. Used with permission.