Archived News Item
A Tribute to Mercy Health
September 19, 2013
The Honourable Alex Chernov AC QC, Governor of Victoria, and Mrs Elizabeth Chernov welcomed 130 guests to Government House on 20 August to celebrate Mercy Health's contribution to the Victorian community.
In their addresses, the Governor and Mr Julien O'Connell AM, Chairman, Mercy Health, highlighted the combined efforts of Mercy Health Foundation and Mercy Health, and the generosity of supporters which have led to the achievement of five significant milestones since 2009.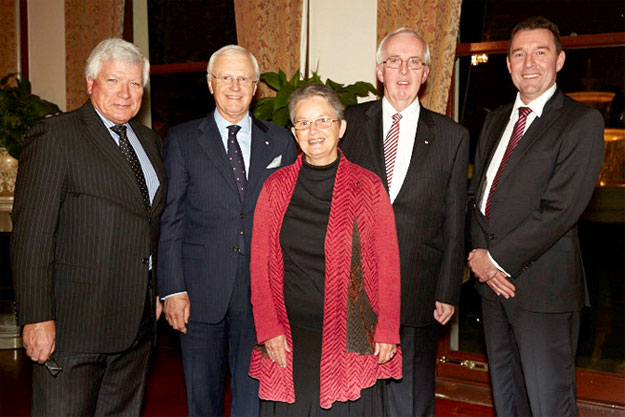 L-R: His Honour Judge Michael McInerney, Chairman, Mercy Health Foundation; The Honourable Alex Chernov AC QC,Governor of Victoria; Sr Berneice Loch rsm OAM, Institute Leader, Institute of Sisters of Mercy of Australia and Papua New Guinea; Mr Julien O'Connell AM, Chairman, Mercy Health; and Adjunct Professor Stephen Cornelissen, Chief Executive Officer, Mercy Health.
Guests celebrated the establishment of Victoria's first breastmilk bank, which provides donated breastmilk to sick and premature babies (2009); The Sheila Handbury Chair of Maternal Fetal Medicine, in partnership with The University of Melbourne to care for at risk women and their unborn babies (2010); The Chair of Aged Care, in partnership with Australian Catholic University to improve the care for the aged, people with dementia and their families (2011); and Mercy Health Foundation's endowment fund reaching $10 million (2012).
The Governor also acknowledged the general concern in the community of the rise in mental illness and congratulated Mercy Health's latest project, the creation of a centre for maternal and early family mental health. "One of the great strengths of the organisation has been its ability to adapt and expand its services to meet the changing needs of our community and those for whom it cares."
As a Catholic organisation, Mercy Health is grounded in a 2,000 year tradition of caring for people in need. Established by the Sisters of Mercy, Mercy Health provides hospital care, specialist women's and babies' services, mental health programs, early parenting education and support, palliative care, residential aged care, home and community care, and health worker training and development.
Mercy Health cares for people in Victoria, southern New South Wales and the Australian Capital Territory. The organisation is also supported through Mercy Health Foundation, which secures philanthropic support and donations to foster the constant improvement of care.
Messages to: Jaclyn Bond Media and Communications Coordinator – Mercy Health