Archived News Item
A Tradition of Hospitality
March 27, 2014
Sacred Heart College in Geelong honoured the Mercy tradition of hospitality on Monday 3 March with the official opening and blessing of its new trade training centre and dining room.
Building the new facility has involved a $600 000 refurbishment of the Celestine Moran Hospitality Centre to create a state-of-the-art commercial kitchen with 16 work stations and a 120 guest dining room which has been named 'Celies Dining Room'.
The project began in 2013 with funding support from the Federal Government. The new facility will enable Sacred Heart to continue to offer specialist Vocational Education and Training programs for senior students from Geelong Secondary Schools who are interested in careers in the hospitality industry.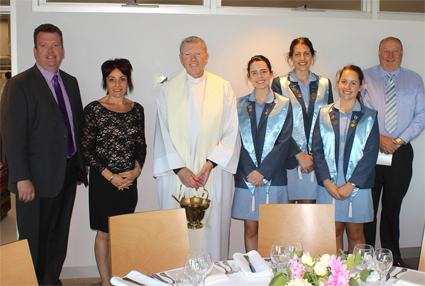 The new facility was blessed and officially opened by Fr. Kevin Dillon, AM, College Chaplain and Parish Priest of St Mary of the Angels in Geelong. After the ceremony guests were invited to enjoy dinner in the new restaurant which was made and served by Year 11 and 12 students with the support of the College chef Mark Fearnside, front of house training coordinator Shane Cannon and Truffleduck Catering.
The centre and the new dining room are named in honour of Sr. M. Celestine Moran who ran the College junior school for more than 40 years from 1932 to 1973. Sr. Celestine, affectionately known as 'Celie', is remembered for her great love of all children. The building, which is now the Celestine Moran Hospitality Centre, was built in 1953 and was originally the College Junior School.
In 1976, when primary education was phased out, the west wing was converted into a kitchen and used for home economics classes. In 2000, when the College celebrated its 140th Anniversary, the building was officially blessed and named the Celestine Moran Hospitality Centre. The redevelopment of the building marked the beginning of a new phase in education for Sacred Heart with the introduction of VET programs, an alternative educational pathway for senior students.
Kath Walsh
Director of Development
Messages to: Kath Walsh
Photo:
Pictured at the official opening and blessing of the Celestine Moran Hospital Trade Training Centre and Dining Room are from left Mr Damian McKew, Principal of Clonard College, Ms Anna Negro, Principal of Sacred Heart College, Fr. Kevin Dillon AM, College Chaplain and Parish Priest of St Mary's Geelong, College captains Jasmine Davis, Zelia Viegas, Annie Smith and Mr Paul Tobias, Principal of St Joseph's College.