Archived News Item
A tale of perserverance and initiative
March 25, 2010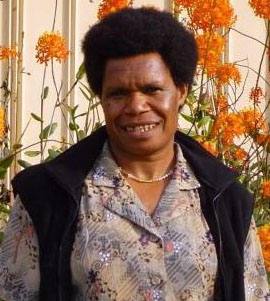 A significant event for the present Regional Leader of the Papua New Guinea Sisters of Mercy, Theresia Tina RSM, was her recent graduation as a Bachelor of Special Education. Her story is one of perseverance and initiative.
"After my first profession I enrolled myself in the Matriculation Course. I worked really hard to pass but I did not get a certificate. The man in charge of this course ran away, taking all the exam papers with him," Theresia explains.
"Then I enrolled in a Teaching Diploma Course for Primary Education. But I still did not get a certificate. I am still struggling to get it. Then I enrolled as a student in the Bachelor of Special Education Course. I am really excited that now I will receive a certificate for the first time," says Theresia.
For Theresia to attend the graduation ceremony at the Divine Word University in Madang and to at last receive the certificate which so far had eluded her, would have been an important highlight in her life. She had already travelled the six-hour journey by bus to Madang from Goroka where she had been attending a national gathering of Leaders of Religious Congregations in PNG.
However, once again her plans went awry. The death of Adelaide Sister of Mercy, Helen O'Brien RSM, who had spent many years of her life in PNG and who had also been a former leader of the PNG sisters, changed her decision to be present at her graduation ceremony. Instead, she travelled to Adelaide to attend Helen's farewell ritual and to represent her sisters in honouring the work and life of this much loved friend of the PNG Mercy community.
Nevertheless, Theresia remains optimistic that this time she really will get that elusive certificate to mark all of her hard work.
From: Pat Wood RSM (Rockhampton).