Archived News Item
A Successful FibreFest at Sacred Spaces Singleton
November 27, 2019
On Sunday, October 27 more than 1,500 people descended on Sacred Spaces Singleton to participate in the NSW Knitter's Guild's annual FibreFest.
This event attracts people from all over Australia, including Melbourne and Darwin and the regional towns in between. Some people even travel by charter coaches from Sydney and the mid-north coast to participate in the day. FibreFest celebrates and showcases everything yarn and fibre related. There are demonstrations of crafts from spinning to lacemaking along with music and food. The day also includes over 25 retail stalls of business selling hand-dyed yarn, commercial yarn, all knitting and crochet needs and even hand made jams and pickles.
In addition to the big day on Sunday, the event has now grown to include workshops on the Saturday before the big event. This attracted over 160 people to the Convent with various workshops held in every available space.  Crafters were treated to our famous 'Convent-made' morning and afternoon tea as well as a relaxing lunch before more workshops.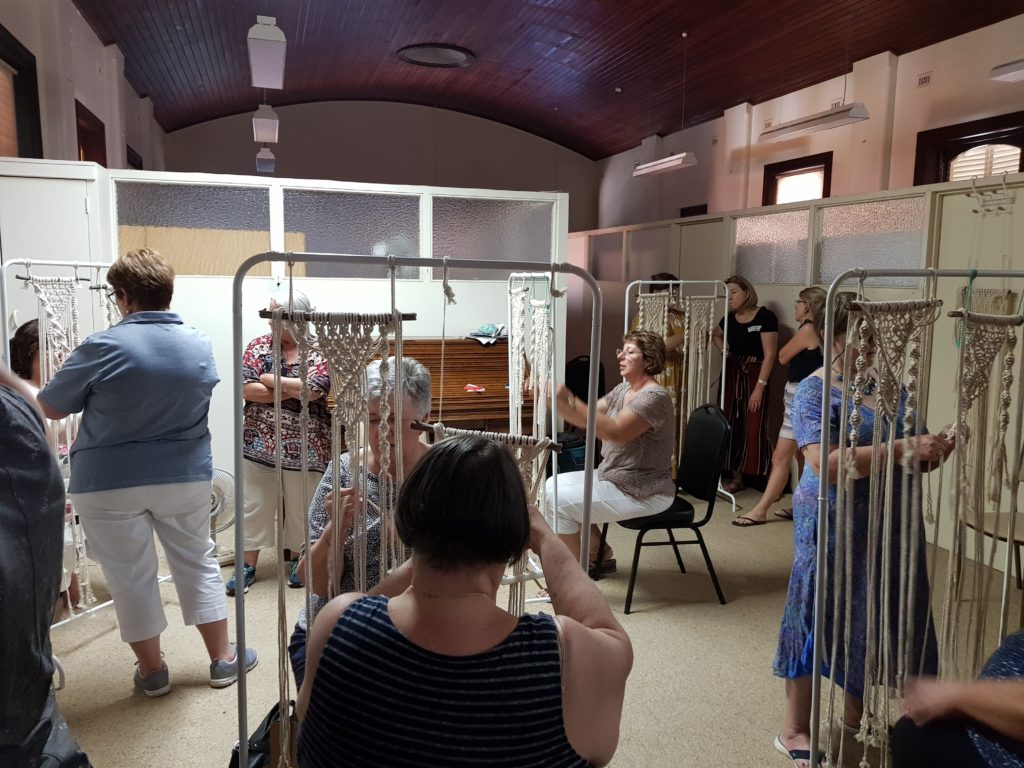 Now in it's fourth year, FibreFest has grown bigger each year.  The event is organised by the NSW Knitters Guild, however, we at Sacred Spaces Singleton also like to tap into our community network and showcase our local talent. We were able to have the Singleton Red Cross, two of the Singleton town bands and local musicians, Rosie Flannery  and Treble Treat join us on the day.
For the first time this year, the NSW Knitters Guild decided to offer for sale a 'FibreFest bag' as a memento. They commissioned a talented artist and asked her to design the artwork for the bag that would encapsulate FibreFest. The artwork was approved and bags went on sale. We were very pleased to see that the Singleton Convent featured on the first FibreFest bag.
The event was deemed a great success by the Guild, the visitors and the retailers and the dates have been locked in for the 2020 FibreFest. It will be held on Sunday, 25 October 2020, so be sure to put it in your calendar so you won't miss out.
Messages to:  Sacred Spaces Singleton
Click here to return to Just Mercy