Archived News Item
A Special Service
May 27, 2014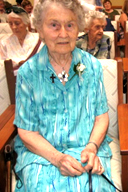 Just as each Anzac Day celebration reminds us of the spirit of service and courage of Australians in times of war, I thought it would be a good idea to honour one of our Mercy Sisters who also served in one of the Defence forces.
It was in 1941 just after the start of World War II that Marie Walker, a young woman from Albany, Western Australia set off to join the Women's Royal Australian Air Force. She had shown a sense of adventure and willingness to take risks when she bought a motor bike and rode it to her work in Albany as a young woman.
After a few months training in Melbourne, Marie was commissioned to Perth Headquarters where she did secretarial work in the Intelligence Branch. From there she was transferred to Townsville, which was closer to the action north of Australia after the bombing of Darwin.
Marie greatly enjoyed her work at the Townsville Station. It was interesting and she felt she was playing her part in keeping Australia safe through her work in the Intelligence Branch. Mostly the girls there kept to base but there was always a lot of coming and going with mobilisations of troops and air force personnel. Her memories of Townsville are happy ones and she loved spending time on the hill overlooking the town and contemplating life.
After her brother, Hugh, finished a stint training pilots at Cunderdin he was posted to Townsville for one month in preparation for his mission of flying Kitty Hawks. Her other brother Bob flew Liberator Bombers and both brothers served in Borneo and the islands north of Papua New Guinea. Marie knew how dangerous this work was and often felt worried about them.
While Hugh was in Townsville he spent time with Marie, taking her to the dances and the pictures in town. On another occasion her brother Bob was passing through Townsville and Marie gained permission to entertain him at her digs on base. However, there was a strict proviso that the party had to be over by midnight. They missed the time and as she was saying goodbye to Bob, she heard the footsteps of the Duty Officer coming to check. Marie hurried to her bunk and jumped into bed fully clothed. The Duty Officer shone the torch on Marie and then remarked: 'Corporal Walker, do you usually sleep with your shoes on?'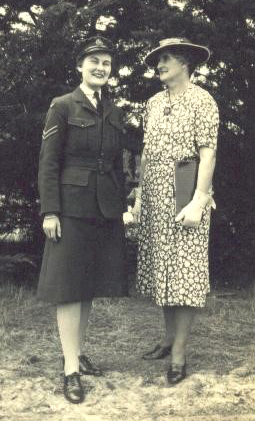 On another occasion when Marie was in Toorak walking with other WRAAF's they saw a man resplendent in uniform with shining brass buttons. They quickly clicked their heels, stood at attention and saluted him. He did not return the salute, averted his gaze and walked quickly on. They found later that he wasn't a Defence Major but a Salvation Army Officer.
After the war and an honourable discharge, Marie returned to Perth. It had long been her desire to join a religious order and now she had the opportunity of doing so. She joined the Sisters of Mercy at Victoria Square in 1948. For many years, Marie taught in Primary Schools around Perth and was greatly liked and remembered by many of those students. She then undertook Motor Mission work in the South-West and did this for many years. As Marie approaches her hundredth year, she looks back on her life with a great sense of humour and gratitude firstly as a farmer's daughter in Albany, then her service in the Air Force and, most of all her many years as a Sister of Mercy. We say "Well done, Marie!"
Photos: Top: Marie at a Jubilee celebration
Right: Marie with her mother
Messages to: Pauline Masters