Archived News Item
A smile covers up many things
December 9, 2008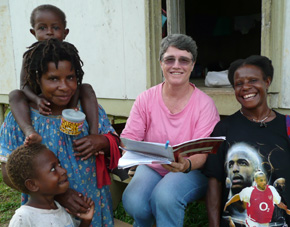 At least one in three women worldwide has been abused in her lifetime says the UN's Development Fund for Women. In Papua New Guinea, violence against women is widespread. Sister of Mercy, Catherine Corbett (pictured centre), has been working with women in Kiunga and the North Fly District, near the West Papuan border since 2004. Here she tells the story of Sally, a remarkable woman who broke free from the cycle of violence.
When I first arrived in Kiunga I was greeted by the smiling face of a woman I will call Sally. Sally took me under her wing, and in the first few months, she was there to assist me in various community activities.
As time went on, I learnt that Sally was married with seven children (one six years old, the others in their teens or married) and involved in activities at the Women's Development Centre in Kiunga. I also learnt that Sally's husband had a second wife, which is the custom here. But Sally was not happy in this situation.
During my second year, the Diocesan Women's Service developed a programme to educate women and to advise them of their rights. At this programme, I heard women talk about their experience of abuse. One woman said she was not free of abuse until her husband died. Another said that hearing of her rights was like a key unlocking a door. Sally shared some of her story at one of these gatherings.
Soon after, Sally told me she was going to leave her husband. She described what it was like living in a polygamous marriage. She felt as if she were a child, having to ask for everything, even her personal needs – a situation she found very degrading. We talked about what she would do as there are no shelters for women. She said she could stay with her cousin's family because she had no immediate brothers or sisters, and her parents were dead.
After a while her husband demanded that she come back to the family. Sally agreed, provided she could exercise her rights. But as time went on, this didn't happen. She left her husband a second time but he came after her with a bush knife and threatened her and so she returned home again. She left a few months later only to receive more threats. Again she agreed to move back, provided her husband built her a house.
The house was not built, so Sally left home again, this time saying she would build a house herself. Her husband came and knocked it down. He did this a number of times until Sally went to the police who ordered him to build the house and leave her alone. Finally, Sally built the house with the help of some women from the church.
Recently, Sally came to me very pleased with herself. She had slept in her house and filed for a divorce.
Sally is a woman of great courage, determination and faith. She learnt about her rights and took steps to break the cycle of violence and abuse that is so often associated with polygamous relationships.
It has been a long and hard journey for Sally and I'm sure it's not over for her yet. Sally's very ready smile is testimony to her strength and courage, but it is a smile that hides sadness and difficulties. I have been privileged to walk with Sally on her journey towards freedom.
Mercy Works Inc. is partnering with the Diocese of Daru-Kiunga to implement leadership and informal education programmes for women at the Women's Development Centre in Kiunga. Catherine Corbett RSM believes this project will benefit women greatly, developing their skills and ability to be effective leaders in their communities. Would you like to partner with Mercy Works Inc. to help empower women leaders in Kiunga? Find out more.
Read other stories from the December 2008 edition of The Bilum.