Archived News Item
A Sister of Mercy at Work
October 27, 2014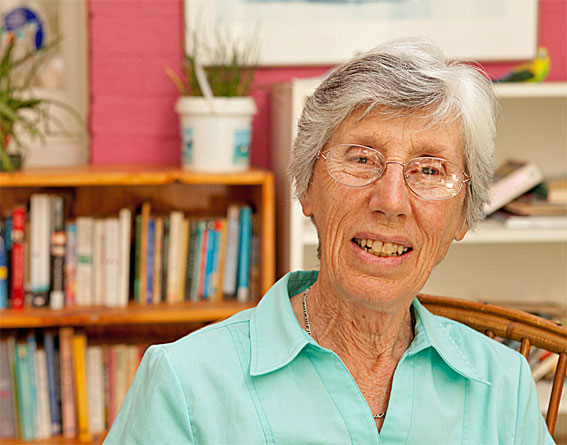 A handful of faithful, strong and compassionate women inspired Maureen Sullivan to join the Sisters of Mercy more than half a century ago. Her aunt, Sr Raphael, her mother, Inez and her teachers from St Mary's College in Bendigo all set an example she hoped to emulate. "My aunt was a St John of God Sister and she lived up in the Kimberley. She was a special person and I admired her work. I used to look up to her and hoped that I could one day be that kind of person," Sr Maureen said.
Today, there are scores of women who would agree that Maureen Sullivan rsm is indeed a special person. Maureen continues to be inspired by strong women; those who are often marginalised by society and abused by others. These are the women from McAuley House, a Ministry of the Sisters of Mercy, where Maureen works as a 'companion', spending her days as a friend to the women and a support to the staff that run the 23-bed facility in Melbourne.
McAuley House, a program of McAuley Community Services for Women, supports women who are homeless, or at risk of homelessness, and who are often experiencing mental illness and family violence. McAuley House (formerly Regina Coeli) provides medium term accommodation, meals and intensive and individualised case management support for women each year. Of the 58 women looked after this year, all are homeless, 9% were sleeping on the streets, 50% came from hospital, 75% have a mental health diagnosis as well as a chronic physical condition and half are from culturally and linguistically diverse backgrounds. Many women have struggled to survive for years before arriving at McAuley House and meeting women like Maureen. Some have come from one of McAuley's five Melbourne refuges.
Sr Maureen, a qualified teacher who spent decades teaching primary and junior secondary students in schools around Victoria, now turns her hand to helping with crossword puzzles, playing board games, knitting or just sitting around the kitchen table listening to a woman who wants someone to talk to. Or you might find her sweeping the leaves from the front door, or down in the laundry washing, sorting and folding clothes. No job is too menial or too small. "It's my privilege to be part of the lives of the women who come to McAuley House. I am constantly amazed by their resilience and courage because they have overcome such difficulties. These women are an inspiration to me," Sr Maureen said.
Sr Maureen, who was nominated in this year's Victorian Minister for Health Volunteer Award, has been a volunteer at McAuley House since 2006. The nomination, made by her colleagues, listed many of her daily activities to try and convey her humility and her importance to the organisation. "Sr Maureen travels beside the women with love and sensitivity. She drives them to hair and medical appointments. She takes them on trams and buses to learn the local transport systems. She prepares cosmetic packs to lift their spirits. She prepares rooms for newcomers and always makes a special effort to welcome them. Maureen listens to their stories and walks beside the women in times of grief and sadness. She also shares their times of joy, especially supporting the monthly birthday nights for past residents," the nomination read.
For many years a Mercy Sister had lived in residence at the House, but when this ended Mercy Sisters began day work as volunteers. Maureen works at McAuley House three days a week along with another Sister. The house is open to women from all denominations, or women of no faith tradition. Maureen doesn't evangelise, but through her work she lives out the charism of Mercy Sisters' foundress Catherine McAuley. Importantly, through her work she tries to reveal God's love to each of the women she encounters. "I think we can reveal God's love through the sincerity of our relationships with one another. After all Jesus asks us 'to love one another as I have loved you'," Sr Maureen said. "Each woman who comes to McAuley is treated with dignity. It is a wonderful thing to be able to spend time with people and try to offer them a little hope in the future, at a time when things can seem pretty hopeless. It is very rewarding for me to just talk with the women, be with them and in a few weeks see the woman start to smile again. Hope is so important because so many of the women who come here are filled with self-blame."
Every Wednesday Mass is celebrated at McAuley House by Fr John Wilcken SJ and is open to all women. Every week a handful of women attend, others ask Sr Maureen to remember them in her prayers. One suspects Maureen's prayer list runs to pages!
At first glance Sr Maureen's work at McAuley House seems a far cry from her years in the classroom, but there are parts of what she does now that are reminiscent of those years. Maureen relishes being part of a team working to achieve a better outcome for the people it serves. "I loved working in schools with a team of other teachers. The camaraderie that develops allows the children to also develop. Here at McAuley House the staff are extraordinary and together with the women, a wonderful atmosphere exists and it helps to nourish the women who need support," Sr Maureen said.
After retiring from teaching in 1991 Maureen managed the Mercy Conference Centre in Melbourne and then spent a decade working in aged care. There is no doubt that her adaptable nature has benefitted the women and staff at McAuley House where no two days are the same. "I slot in here wherever I am needed because I am not here in a professional role, but as a companion and support," she said.
Sr Maureen has built friendships with many women over the years and remains in contact with some. McAuley House also supports women who are now living in the community, to maintain their health and housing. They are welcome to drop in to McAuley House and participate as they wish and they provide a valuable support to others. Every Wednesday evening is community night where women return for dinner and Sr Maureen stays later than normal so that she can welcome them and hear their weekly news. Once a month it is birthday night and a great cause for celebration. If a woman goes to hospital, Maureen visits her so that the woman knows someone is still watching out for her.
McAuley's many services reflect the charism of Catherine McAuley who used her inheritance to build a home in Dublin, Ireland in the 1820s for poor servant girls and homeless women. McAuley Community Services for Women runs three programs:
• McAuley Care: Victoria's only round-the clock crisis accommodation and support for women and their children escaping domestic violence, as well as five refuges.
• McAuley House: provides accommodation and support for women who are either homeless, or at risk of homelessness, many with a poor physical and mental health.
• McAuley Works: an intensive employment program that assists women to secure employment and increases their ability to support themselves financially.
"McAuley House is a great Mercy ministry; giving women opportunities, respect and dignity. I am honoured to be a part of this," Sr Maureen said.
McAuley Community Services for Women receives some Government funding but relies heavily on the support of people in the community. If you would like to make a donation towards McAuley's work please phone 03 9371 6600 or send donations to McAuley Community Services for Women, 18 Robertson Street, Kensington VIC 3031.



For more information about McAuley Community Services for Women go to www.mcauleycsw.org.au
Messages to: Rosie Hoban
Communications – McAuley Community Services for Women