Archived News Item
A Significant Occasion
February 28, 2014
Recently a significant celebration took place in Adelaide for Sisters of Mercy – Anne Cashen, Patricia Fox, Pat McAuley and Josephine Weatherald. The occasion was their Golden Jubilee of Religious Profession as Sisters of Mercy.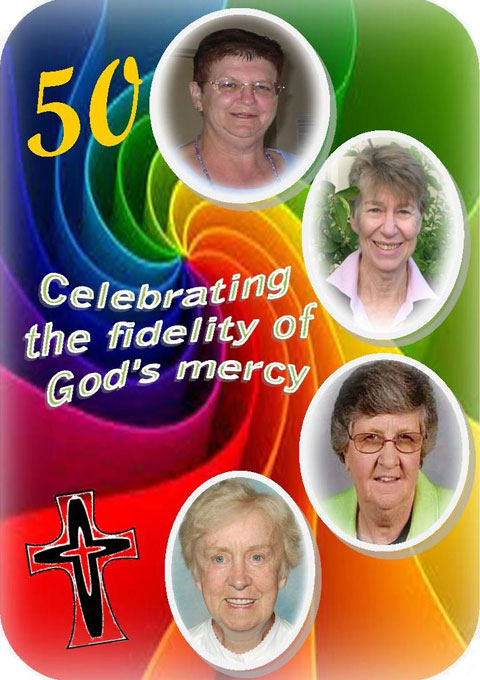 On January 16, 2014, the Sisters gathered in St Aloysius Church in Richmond for a Eucharistic celebration to commemorate the occasion. Despite the hot conditions there was a wonderful gathering of sisters ,relatives and friends to celebrate this significant occasion. After Mass, all gathered at the Morphettville Junction for a wonderful luncheon. The Jubilarians wish to thank all who made it such a special day. The reflection given by Sr Patricia Fox at the Eucharistic celebration is shared below.
Golden Jubilee Eucharist 16/1/2014
Readings: Isaiah 43: 1-4; Alleluia verse Isaiah 49:13-15; Luke 13: 10-17
The Gospel reading we have just heard provides a vibrant picture of God's mercy and liberating love in action. Jesus is teaching in a synagogue on the Sabbath and "just then there appeared a woman…who was bent over and quite unable to stand up straight." Jesus sees her, calls her to him and declares: "Woman, you are set free from your ailment." He lays his hands on her and immediately she stands up straight and begins praising God.
This story from Luke is situated within a context of Jesus attracting huge crowds who came drawn by the power of his preaching and healing. In this story, he is immediately challenged by the leader of the synagogue for healing her on the Sabbath. Jesus defends his action by arguing for the right of "this woman, a daughter of Abraham…bound for eighteen long years" to be "set free from this bondage" precisely on the Sabbath day. He is filled with compassion for the woman and is outraged by the distorted image of God implied by the accusation of the leader of the synagogue. An animal can be freed on the Sabbath, but not a woman? What kind of God would demand this? Moreover, Jesus' vigorous reply recalls that women as well as men are fully fledged members of the covenant and of equal standing before God. They have a place in the synagogue. His words also reclaim an understanding of each Sabbath day to be a time of "jubilee, of release and restoration." This stunning and subversive response of Jesus provides a compelling revelation of what the reign of God, looks like. It invites the listener into the presence of the Holy One who constantly calls every person to freedom and to fullness of life.
The two texts we have heard today from the prophet Isaiah tell us more of this invitation. They reveal a picture of a God who creates, forms and calls each person by name and who promises fidelity no matter what life throws at us.
Can a woman forget her nursing child,
Or show no compassion for the child of her womb?
Yet I will not forget you.
Is 49:13-15.
"You are precious in my eyes, and honoured, and I love you." Isaiah 43:4
When Anne and Josie, Pat and I took time together to find a way of describing what we wanted to be the focus of our jubilee today, we chose: Celebrating the fidelity of God's Mercy. Having recalled something of the amazing journey of challenges and grace of the past 50 years, we acknowledged experiencing going through fire and floods, of being bent over and needing to be freed, to be healed and to be called to "stand up." We also described the experience of the abundance of a sustaining, nourishing God who constantly invites us to an ever deeper trust and joy. We are very grateful for the loving presence of you, our sisters, families and friends who have come to join us on this jubilee day. We are also aware of so many others along the way who have called us to life and to grace.
Our founder Catherine McAuley impelled by a powerful sense of God's steadfast love and mercy was passionate for every person, and especially women in need to experience this loving-kindness this extravagant merciful love that heals and transforms. Jesus' outreach of mercy to the woman bent double embodies this message and is a living vibrant word to each of us gathered on this occasion of a jubilee.
I am conscious too that there can be another level of hearing it today. This story is not included in the Roman lectionary for Sundays and Major Feasts and is therefore rarely, if ever, heard by most Catholics. The power of Jesus' subversive challenge in this text is not pondered and proclaimed in our Churches. And fifty years since the great liberating council of Vatican II taught that all of God's people, by virtue of baptism are called to stand up and be church, those of us who are women are still not able to take our place as equals. I am very conscious on this day – exactly fifty years since we took first vows — of our younger sisters. We remember Michelle Goh who will make her first vows in Melbourne on this Saturday. Perhaps it can be our prayer on this jubilee that when these women will be celebrating their golden jubilees, God's mercy may be flourishing in new and creative ways, enabled by the full reception of women's leadership and gifts within our Church as well as our world.
The central message of the Word on this Jubilee day is about an extravagant merciful love that transforms, one that our present pope Francis often embodies. Pedro Arrupe's words provide a wonderful testimony to this love and ring very true for me as a Golden Jubilarian:
"Nothing is more practical than finding God, that is, than falling in love in quite an absolute way. What you are in love with, what seizes your imagination, will affect everything. It will decide what will get you of bed in the mornings, how you spend your weekend, what you read, what you know, what breaks your heart and what amazes you with joy and gratitude. Fall in love, stay in love and it will decide everything."
Patricia Fox rsm
Messages to: Anne Cashen
Patricia Fox
Pat McAuley
Josephine Weatherald