Archived News Item
A SAFE PAIR OF HANDS
September 21, 2016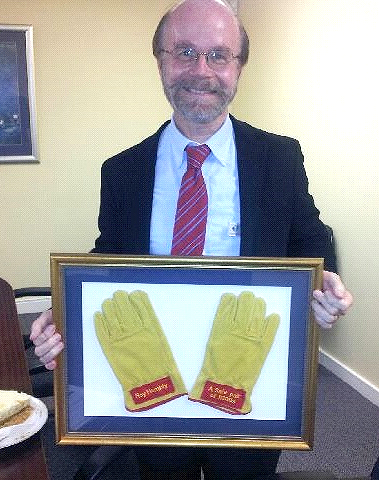 In June 2016, after eighteen years of service to Mercy Services [NSW], the Chief Executive Officer, Roy Hambly, announced his decision to retire from fulltime work concluding on September 2, 2016. Roy has been an inspirational leader of the organization during years of growth and expansion of services to those most in need in Newcastle and surrounding areas. Since that announcement Roy's work has been acknowledged at several farewell gatherings.
On Wednesday 10 August, Roy participated in his last Work Health & Safety Committee meeting before retirement. On behalf of the WHS Committee, past and present members, Lawrie Hallinan, WHS Coordinator, thanked Roy for his commitment to the Committee. Lawrie noted that Roy rarely missed a meeting and used these meetings to ensure that decisions about safety issues were made quickly and with staff involvement. Roy was then presented with a framed pair of work gloves embroidered with the words: "Roy Hambly: A safe pair of hands".
A farewell morning tea also took place for Roy at the Singleton offices. Roy was very keen to have that opportunity to say thanks and farewell to the residents and staff at Singleton.
The major farewell to Roy saw about 130 people gather at the Charlestown Bowling Club for afternoon tea on Friday 2nd September.
There were a large number of Sisters of Mercy, staff from other community organizations and many Mercy Services staff.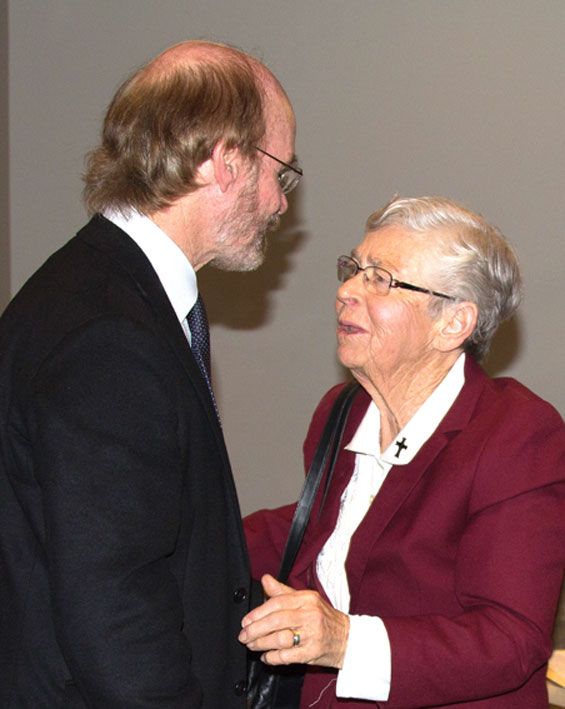 The event started with an Acknowledgement of Country by West Lake Macquarie Elder, Uncle Gerry Edwards. Lawrie Hallinan was the MC and read a list of those who had sent apologies. Sr Berneice Loch OAM, Leader of the Institute of Sisters of Mercy Australia and Papua New Guinea spoke about the Sisters gratitude for Roy's stewardship of Mercy Services over the past 18 years. Then there were some words of gratitude on behalf of the Mercy Services Board of Directors, past and present, by the current Board Chair, Mary Grace.
Elvira Johnson spoke on behalf of Mercy Services staff, volunteers and clients, especially from the AOD services. Robyn Houston said a few words on behalf of Mercy Services staff, volunteers and clients, especially from the Community Transport. Catherina Kolder gave some reflections on behalf of Mercy Services in Singleton. Yvonne Cossins presented Roy with a humorous version of his own aged care plan (not that he needs one).
Roy gave a speech in reply where he spoke about his diverse career as being a good preparation for his final position at Mercy Services. He gave some examples of client services and interactions with staff that show the "Mercy way", and of which he is very proud.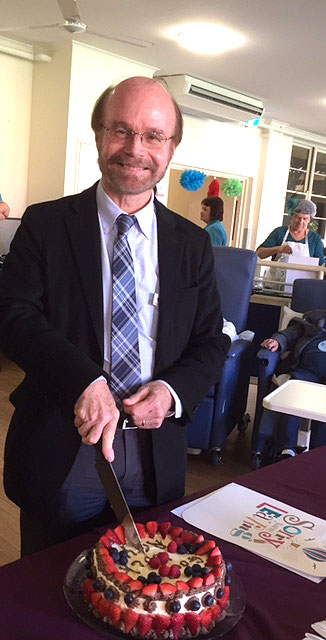 When announcing his retirement Roy said:
I have enjoyed my 18 years with Mercy Services immensely and leave this wonderful organisation and its staff and volunteers in a solid and viable position with exciting and challenging times ahead. I am grateful for the contribution of our many past and current dedicated staff who I have had the pleasure of working alongside. I wish to thank all members of the Board for their support, guidance and leadership in assisting myself,
managers and staff to achieve Mercy Services current positive and sustainable position. I have a special word of thanks to the Sisters of Mercy for the confidence and belief that they have had in my values and skills to carry out this critical position. Most of all I will cherish the memory of the many clients and their families that I have met and for the impact that our services and caring approach have had in their lives.
We thank Roy for his many years of service and wish him every blessing in the future.
Messages to Lawrie Hallinan
Mercy Services website: www.mercyservices.org.au