Archived News Item
A reflective journey through Mercy heartland
October 27, 2008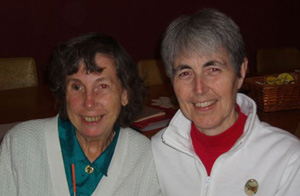 Sister Nance Cale (Wilcannia-Forbes) reports on a recent retreat experience led by Sister Madeline Duckett RSM in Bathurst. One of a series being conducted this year, the retreat centred on mercy as it is presented in the Constitutions.
"A reflective journey through our mercy heartland, our Constitutions, mining the underlying riches of these sources of Mercy life." This is how retreat director, Sister Madeline Duckett RSM, described our retreat centred on Mercy as it is presented to us in our Constitutions.
One of a series of retreats this year that has offered opportunities for Mercies across the country to come together around a Mercy theme, the seven-day retreat held recently in Bathurst, was voted an outstanding success by all participants.
Based on her conviction that the centre of a journey of reconfiguring lies in the message of our Constitutions, Madeline has designed an inspiring retreat programme for those interested in reconnecting to this guide for our Mercy life.
Taking each chapter as a focal point, the retreat invited us to look afresh at this source of inspiration.
As we began the retreat, many of us acknowledged that this "treasure" may have been undervalued in our lives. In this time of reflection, prayer and ritual, with the creative processes offered for us as a vehicle for grace, we came to realise anew what a great gift we hold.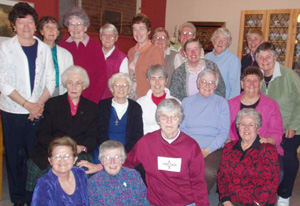 As we entered the retreat we were reminded that:
We are pilgrims on the Mercy journey
Each of us is called to go out the garden gate,
beyond the well worn path,
beyond the comfortable,
into the unknown.
We are called out from our comfort zone, to a journey where we can be transformed,
and awakened to the call to move again.
At this time in our Australian Mercy story, as we are dealing with the questions and challenges of reconfiguring, there was much to nourish us in this time of reflection and prayer together.
In the setting of Rahamim Ecological Learning Centre, the Bathurst sisters' new Mercy venture, lush with the new growth and ever deepening green of springtime, we saw all around the transformation in nature, a gentle metaphor for the process at work amongst us.
A highlight of the retreat was the evening gathering for a time of shared contemplation. There was a sense that we were indeed entering the heartland of our Mercy life as we spent this time together.
There have been suggestions that we look for ways to continue this "Mercy contemplation". At the end of the retreat we were unanimous in declaring it an exceptional time of grace. Wherever reconfiguring is taking us, the vision of our Constitutions is there to inspire.

Participants at this session gathered from Kempsey and Coffs Harbour, Broken Hill, Kogarah, Canberra, Perth, Bathurst, Orange, Forbes and Dubbo – a great reconfiguring of Mercies.
This coming together as a group of Mercy sisters gave us pause to reflect on the gift that we are to one another. As the constitutions tell us: "The tender Mercy of our God has given us one another".
For further information on Mercy Retreats contact Madeline Duckett RSM Email: madeline.duckett@mercy.org.au
For information on the Rahamim Ecological Learning Centre and its programmes Email: contact@rahamim.org.au
From: Sister Nance Cale RSM (Local Communications Facilitator, Wilcannia Forbes)