Archived News Item
A REFLECTION OF MERCY
June 1, 2015
In recent Jubilee celebrations in Bathurst, New South Wales, Patricia Powell rsm acknowledged Sister Miriam Gibbons and in doing so gives a picture of Mercy at work in the world.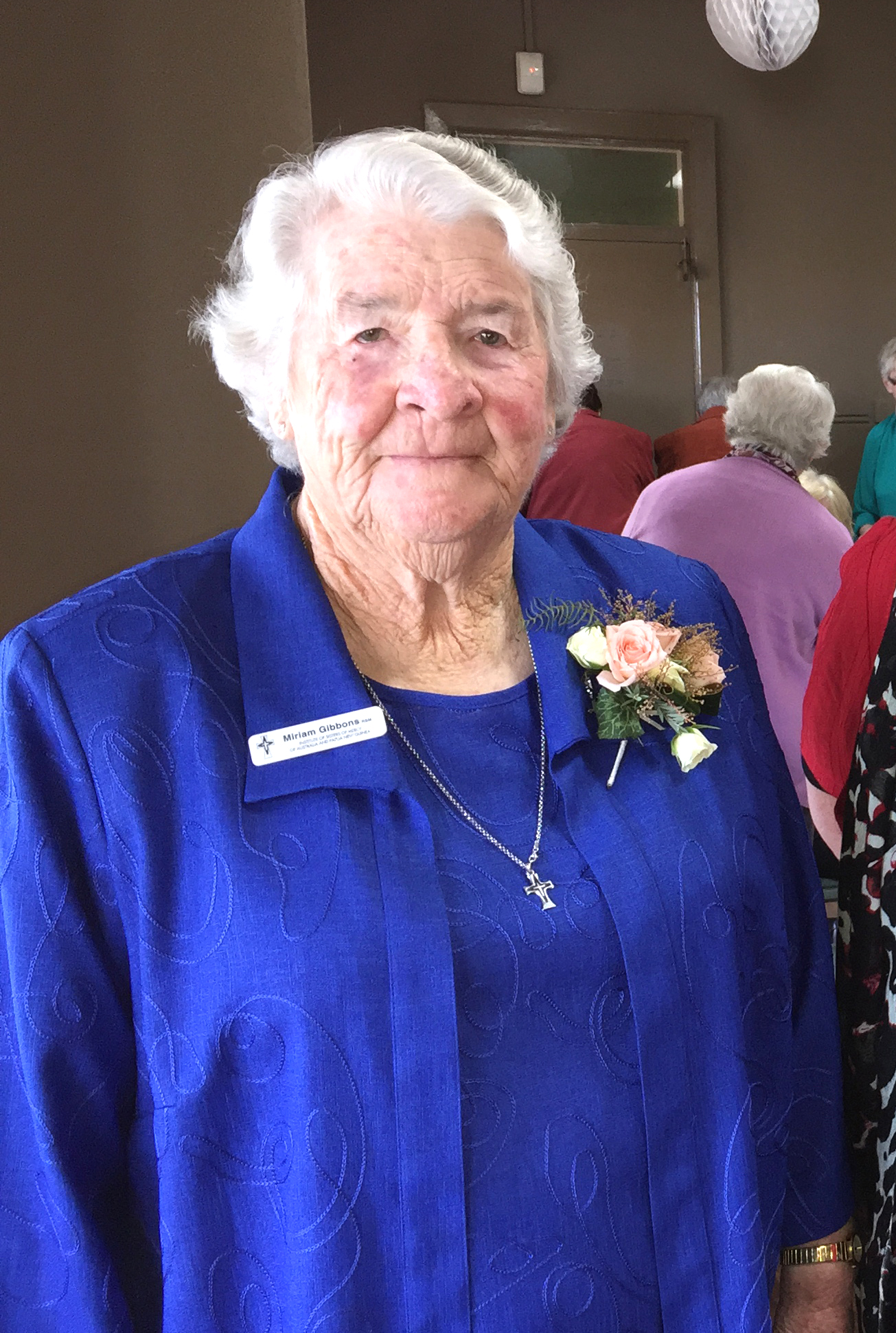 "It is an honour to congratulate Sister Miriam on the occasion of her Diamond Jubilee, because it is an honour to acknowledge and celebrate someone who, for sixty years, has been "like a tree, planted near running water." She has put down deep roots, drawing from the spiritual strength of her relationship with Jesus through Mary and Joseph, and has spread out wide branches, embracing all with her compassion and love, especially those most in need of mercy.
This Diamond Jubilee celebrates who Miriam has become and what she has achieved in her living of religious life as a Sister of Mercy.
I had the privilege of living with Miriam in Dubbo for ten years in the 1980's, when we opened a house for temporary and emergency accommodation for Aboriginal people from further out West, coming to Dubbo for essential services. This initiative came out of Miriam's experience in Redfern with Mum Shirl and Father Ted Kennedy and the community who worked with them and with the Aboriginal people there and in Wilcannia. I went into that situation as "Sister Miriam's friend" which guaranteed me a trust and acceptance which otherwise might not have been accorded me for several years. Such was the esteem in which Miriam was held by Aboriginal people from across the Eastern States.
Those years constitute only one sixth of Miriam's ministry as a Sister of Mercy. But they capture some of the qualities Miriam brought to her life and work, whether she was preparing wonderful meals for large communities of Sisters and boarders, working tirelessly in the laundry, visiting the gaol or the hospital, sharing with family members, who are so proud of her and of whom she is so proud, attending funerals and comforting the bereaved or just being with the Aboriginal elders on trips or at meetings.
Living with Miriam in those years, I learned some valuable lessons about mercy and I'd like to focus on some of them on this occasion:
Mercy listens attentively: Miriam's capacity to sit quietly, patiently listening to the outpouring of grief or joy – in person or on the phone, brought healing and peace to many. Often she hardly said a word. But the quality of her gentle presence communicated concern, respect and encouragement. While many people of that era held opinions about what was good for Aboriginal people, Miriam was always guided by what Aboriginal people believed was good for themselves and their people and she supported their initiatives establishing the Dubbo Aboriginal Pre-school, the Dubbo Aboriginal Medical Service and the Dubbo Aboriginal Legal Service. This became the cardinal rule for the Dubbo Aboriginal Ministry.
Mercy is practical: Like Catherine McAuley, Miriam understood that the poor needed help "NOW". While she worked with others on the slow process of trying to change unjust structures that kept Aboriginal people marginalised in society – marching in Land Rights demonstrations and actively participating in other protests against racism and discrimination in the education, health and welfare systems, she also organised a simple bread run, collecting the bread left at the end of the day from the baker and distributing it to needy families every evening.

Mercy takes risks: Had they known about it, I am not sure that either the Congregation or the local civic authorities would have approved of our converting our back shed at Fitzroy Street into accommodation for an Aboriginal man who was a recovering alcoholic, and needed the support that Miriam provided for him for over twelve months. Miriam did not flaunt rules and laws, but if they stood in the way of common sense and compassion, she certainly found ways around them. You definitely could not say she identified with the local constabulary. But the police had the greatest respect for her and frequently called on her to assist them with accommodation for a domestic violence victim, knowing that both mother and children would be safe with her. Black or white, they knew the perpetrator would not dare cross her threshold.

Mercy is tough love: While most people were grateful for the help they received from Miriam, there were always some that took things for granted, and indeed literally took things from the house when they departed. Not that Miriam looked for gratitude or reward, and she would have given the shirt off her back to someone who needed it. But time and again, she welcomed ungrateful people back and gave them another chance, albeit calling their bluff with a few firm and well-chosen words.
Mercy is resourceful: I think I owe my love of the universe to those years in Dubbo with Miriam. When the Aboriginal people bought their first significant property, "Winterriga" on the Darling River by pooling their Land Council monies, there was a great celebration. Aboriginal people and their friends from Broken Hill to Redfern all converged on the property in every variety of vehicle. Before nightfall, we erected out tents. Only to our dismay, Miriam and I had left our tent-pegs behind and we were too far from civilization to replace them. Nothing daunted, Miriam declared that we would sleep on top of our tent instead of in it! Feeling a bit exposed to the elements and vulnerable to people, who by that time were a bit under the weather, I settled into my sleeping bag under a clear night sky. And that's when the magic happened for me! The whole Milky Way Galaxy was spread out above us – so close you felt you could reach out and scoop up a handful of stars. I don't remember anything else about that night. But I know I did not sleep a wink for the splendour of it.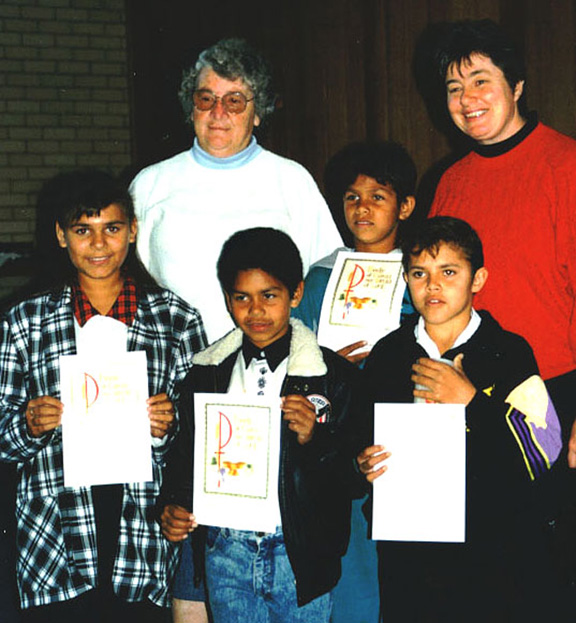 So thanks Mim. Thanks for your friendship. Thanks for your mentoring me in mercy and justice. Thanks for your physical and spiritual solidarity with the Sisters of Mercy for over sixty years. And thanks for facilitating my entry into the Aboriginal community and the community of the unfolding Universe.
Messages to Patricia E. Powell rsm
Photo: Srs Miriam and Patricia