Archived News Item
Sister Brings Planetary Perspective to Planning Commission
December 18, 2018
Sr Patricia Powell RSM OAM recently represented Rahamim at the Independent Planning Commission public meeting in Mudgee NSW during its determination of the Bylong Coal Project.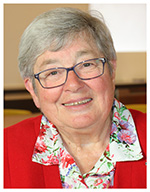 This was an important meeting for the public to express their views on whether or not the Korean-based Kepco Coal Mine should go ahead in the Bylong Valley.
The Bylong Valley is one of the most fertile, lush valleys in NSW and an important food bowl for Australia. However, the NSW Government  is currently investigating as many mines as possible before the March election, including this one in the Bylong.
Sr Patricia's speech, giving the broader perspective of the planet as a whole and of the role of the human in it, was the only one of its kind at the hearing, challenging those present to another world-view bigger than short term profits and jobs.
Click here to read the submission
Messages: Rahamim Ecology Centre