Archived News Item
A place to call home
June 11, 2008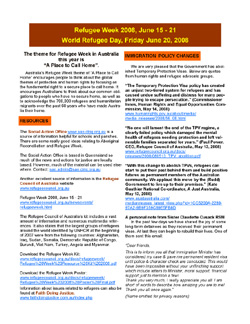 Refugee Week in Australia is celebrated from June 15 to 21 and the theme this year is "A Place to Call Home". The following backgrounder from the Institute's Specific Issues Committee, Asylum Seekers and Refugees includes information, resources, personal reflection and suggested actions about Refugee Week, detention centres and changes to immigration policy.
Australia's Refugee Week theme of "A Place to Call Home" encourages people to think about the global themes of protection and human rights by focusing on the fundamental right to a secure place to call home.
It encourages Australians to think about our common obligations to people who have no secure home, as well as to acknowledge the 700,000 refugees and humanitarian migrants over the past 60 years who have made Australia their home.