Archived News Item
A place to call home: Refugee Week in Bathurst
June 24, 2008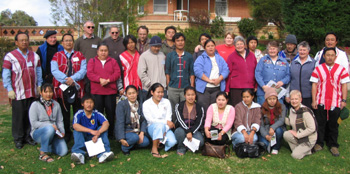 Members of Bathurst Refugee Support Group and Rahamim Ecological Learning Community linked arms with the wider Bathurst community for two significant celebrations during Refugee Week (June 15-21).
The occasion? "A place to call home" for the newest recruits into Rahamim Community, to be accommodated in the "Chook Chapel"! The residents are now providing very healthy eggs to the community and their friends.
The name "Chook Chapel" was chosen by the members of Bathurst Correctional Centre weekend detention inmates who took great pride in building the Alpine-like hermitage (pictured below) for the chooks. All recycled materials were used in the construction which forms part of a Community Garden Project.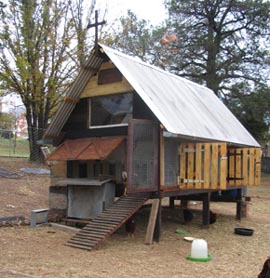 More seriously, this happy occasion created a wonderful welcome for 23 refugees from the Burma Karen group, who stayed at St Joseph's Mount for the weekend. Many hearts in Bathurst were touched by the visitors and staff from STARTTS (Service for the Treatment and Rehabilitation of Torture and Trauma Survivors) who arranged the weekend camp-retreat.
Photo top: Group of Karen Refugees with Bathurst Refugee Group members and staff of Rahamim "Chook Chapel" at Rahamim Ecological Learning Community, St Joseph's Mount Bathurst. (Permission granted for circulation of these photos).
From: Sister Pat Linnane RSM