Archived News Item
A Picture is Worth a Thousand Words
June 30, 2014
It is famously quoted that a picture is worth a thousand words and the archives of the Sisters of Mercy Townsville is filled with many historic photographs, including images illustrating the journey of thirty five young Irish girls who travelled across oceans to Townsville in 1926 to become Sisters of Mercy.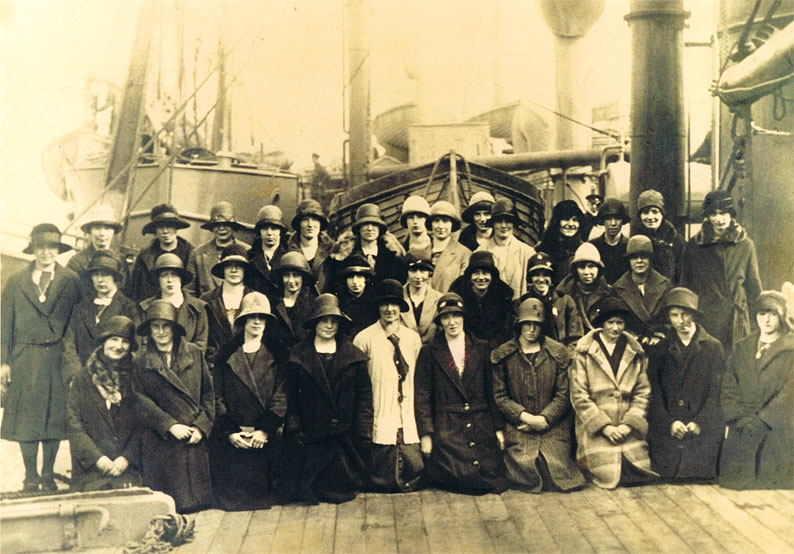 In 1925, after receiving a request from Bishop J. Shiel, Mother M. Agnes Goggin and Mother M. Michael Spillane of the Townsville Congregation left for Ireland on the 'Beltana' in search of new novices. Mothers Agnes and Michael visited all the counties of southern Ireland and caught the attention of thirty five girls, ranging in ages and life experiences. Sr. M. Cecilia Flynn the youngest, who was only seventeen years old, generously surrendered her grandfather's valuable property to become a Sister of Mercy. The Townsville archives has a copy of a letter dated December 1925 in which Mother Agnes promises the paid return of any Irish girl who did not remain to become a Sister of Mercy.
Mothers Agnes and Michael and their charges boarded their boat in Dunlaighire, Ireland on 24th March 1926. Sr. M. Scholastica McDermott remembers the grief of her own mother and that of the other parents who thought they would never see their daughters again. In the two month journey the young women were kept busy with various activities which blended recreational pursuits (including dancing), study and spiritual reading. There was always a set bed time when Mother Agnes would visit each cabin, wishing the girls goodnight. There are several recollections of this sea journey by the novices, with many laughs shared on board the 'Beltana'. Sr. M. Rosarii remembers Mother Agnes guarding the Irish girls like children, while stating 'remember there is only a plank between you and eternity', ultimately promoting complete faith in God. Sr. Margaret M. Bertles fought the emotion of home sickness even before she left Ireland, often proclaiming her intention of going home at every port (she did however, make it to Townsville and served as a Sister of Mercy in the Diocese until her death in 1953).
The two month sea voyage had several stopping points, including Cape Town, Melbourne, Sydney and Brisbane where they then transferred to the 'Kanowoa'. After a delay in Rockhampton, Mothers Agnes and Michael and the Irish girls arrived in Townsville on 26th May 1926 to the great rejoicing of the sisters and the catholic community. The older girls received the postulants cap on the 29th May, while the younger girls received theirs on the 30th May. Official records detail the full profession of twenty five of the original thirty five Irish girls.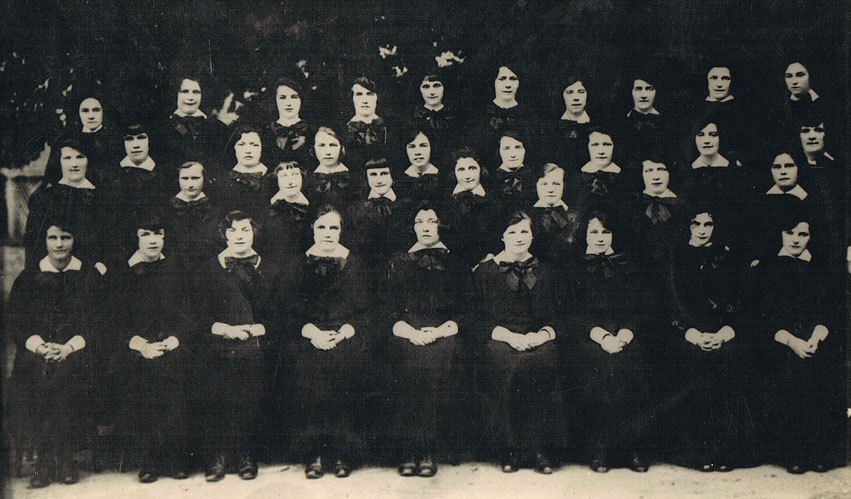 The thirty five Irish Postulants received their caps in May 1926.As the Catholic Press so suitably stated, 'Long and joyous be the years that await this pilgrim band! Noble is the work, grand is mission that awaits them in this land of sunshine. If they but succeed half as well as those whose burden they have come to lighten, splendid will be their achievements in forming the characters, in promoting culture and refinement among our North Queensland children'.
Messages to: Anita Meale
Curator, Institute Archives and Heritage, Stanmore (formally Curator, Townsville)