Archived News Item
A Personal Pilgrimage – Woman of Inspiration
June 30, 2014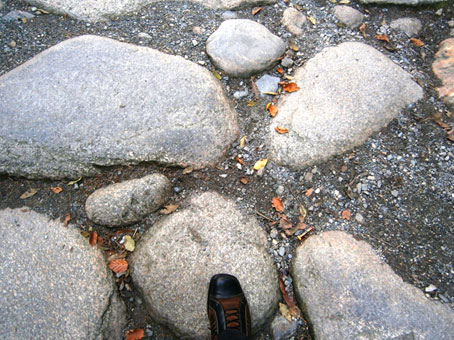 On Easter Sunday evening I set my feet on a pilgrim path to Dublin as one of 27 Mercy ministry leaders and Sisters participating in the second part of the leadership program, "Mercy the Business of our Lives" facilitated by the Mercy Ethos team.
In the first part of the program we were given a quote from Macrina Wiederkehr (Behold Your Life, page 11), about Pilgrimage:
'A pilgrimage is a ritual journey with a hallowed purpose…it is a transformational journey during which significant change takes place. New and old places in the heart are visited. Blessings are received and healing takes place…'
During the program in Dublin we spent time in the 'thin places' of Catherine's story, those places in which it is possible to encounter her spirit as we depthed the foundational Mercy story. I found myself returning a number of times to a 'place in the heart', St Teresa's church, in Clarendon Street, to contemplate the plaque on the wall of the church where the names of the first thirteen Sisters of Mercy who died (between 1831 and 1840) are recorded. These Sisters are buried in the crypt below the church. No wonder Catherine wrote: 'The tomb is never closed in my regard.' I wondered again about these women who literally gave their lives to Mercy and of Catherine's losses, as so many of them died in those early days in the House of Mercy. The story of one of these women, M. de Chantal McCann, has 'touchpoints' with my own story of Mercy and of life, such that she is an inspiration to me.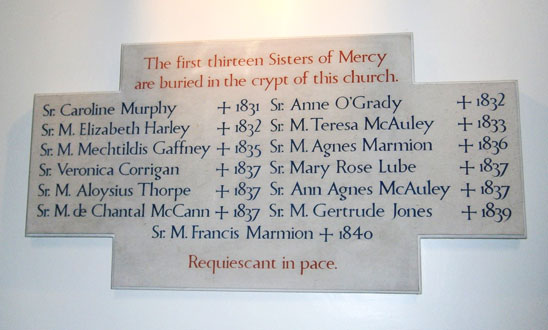 I was first introduced to de Chantal McCann's story by Sister Mary Duffy when I did a retreat that focussed on the Correspondence of Catherine McAuley, during my 'novitiate.' Mary drew my attention to the fact that I was not the first mother to enter the Sisters of Mercy. In the earliest days there was a Sister of Mercy who had a child at the time she entered the Baggot Street community in October 1832.

Mary Jane Frances (Mary) de Chantal McCann was the widow of Doctor John McCann, a Dublin physician who had attended the sick in the House of Mercy. (Perhaps de Chantal became familiar with Catherine and her Sisters through her husband's care of them at the Baggot Street House.) Mary had a ten year old daughter, Kate, whom she enrolled in the boarding school of the Loreto Sisters a few days after her entrance. The child died soon after of whooping cough. (see notes, page 67, Correspondence of Catherine McAuley). I have two daughters, Melanie, and Jenni. Jenni died in 1982, aged seven. De Chantal and I share the common experience of the loss of a beloved child.
Very few facts are known about M. de Chantal's life story, other than the references to her in Catherine's correspondence and the information about her which the archivist at Mercy International recently gave me when I told her of my interest in this Mercy woman's story. Reading between the lines, a story emerges of a woman with a generous heart and spirit and a remarkable trust in God's providence, such that she gave her inheritance as a widow as her dowry, thus enabling Catherine to purchase the Kingstown house, initially as a place where Sisters could convalesce after illness. This despite that her mother had cautioned her against handing over all she possessed…..making it impossible to ever command one shilling, her mother told her she ought to have some security, as many persons were of the opinion this house would not be established-and said to her, 'What would you do then?' She answered, 'Wouldn't I have my sweet Lord?'… Tho' we may not often have the consolation to meet such noble universal disengagement as hers-yet a spirit directly opposite, I humbly hope will never make its abode amongst us. (Catherine in letter 283, to Sister Mary Ann Doyle, dated July 24 1841, page 418, Correspondence) Perhaps such 'noble disengagement' is to be sought after! This ability to risk all, for the sake of the mission, is inspirational to me, and drew me back to St Teresa's church to reflect on this Mercy woman's courageous spirit and faith.
Catherine further described de Chantal as 'innocent'; she wrote to Angela Dunne about de Chantal's death: She had quite a saintly death ( she had made her Profession in July 1835, and died at Kingstown in October 1837), continually repeating aloud-My God I love you-forgive me and take me to yourself. The Physicians were astonished. (page 114, The Correspondence of Catherine McAuley) One senses that Catherine was deeply affected by the deaths of these Sisters when she continues to Angela Dunne: I have not been able to write or do much since I returned. On the second day I went to Kingstown to console them on the loss of their lively dear companion.
M de Chantal McCann, this 'lively dear companion', who risked all and gave all, holds a special place in my heart. She was named in the litany at my Final Profession in 2012. In Dublin in 2014, she companioned me on a pilgrimage of the heart to integrate her story of Mercy and my own.

Messages to: Helen Glasheen rsm