Archived News Item
A NEW EXPERIENCE
April 30, 2015
ISMAPNG's Rahamim Ecology Centre located at 'St Joseph's Mount', Bathurst became a film set for five days in April this year.
The 'Logan Brae' heritage mansion, located on the 'St Joseph's Mount' property, came alive as events and stories from the era of the Busby family (1876-1894), the Experiment Farm (1896-1908) and the Sisters of Mercy (1909-2012) were retold.
Some may argue that a house, as a non-living entity, cannot have or influence the life of those who occupy it. However, there is little argument to be found around the centrality of the Logan Brae Mansion and its diverse and many occupants in contributing to the betterment of society. Researcher Mary Miller meticulously studied the 150 years of history and identified key unifying themes of generosity, endeavour and courage.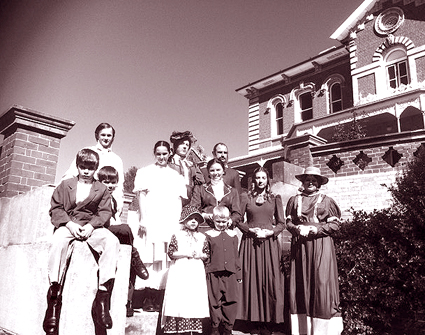 'Logan Brae' was built in the 1870's by John Busby as his family home. The spirit of generosity is evidenced in the association of the Busby families with the growth of the New South Wales Colony in general and the settlement of Bathurst in particular. The public record shows John and Harriet Busby were generous benefactors and hosted numerous social events at Logan Brae. As a banker, John Busby approved finance for the establishment and expansion of enterprises within the region.
In the 1890's, 'Logan Brae' was the headquarters for the Experiment Farm and home to agricultural students. The Experiment Farm was an innovative undertaking motived by a desire for sustainable agriculture in the colony. The Sisters of Mercy were then the beneficiaries of the generosity of John Meagher who donated the property including the Logan Brae house for their novitiate in 1909.
Across the decades countless young women, inspired by the example of Catherine McAuley, generously responded to the call to commit their lives to the service of God and those in need. For over a century now, 'St Joseph's Mount' has been used by these Sisters of Mercy as a residence, administration and education centre.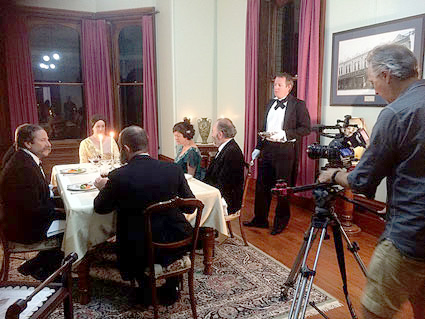 The film received a grant from Bathurst Region Conservation and Interpretation Fund and will be released in conjunction with 200 years of Bathurst celebrations.

What a wonderful link with the beginnings of this significant place and with Rahamim Ecology Centre; the current custodians of 'Logan Brae'.
Messages to: Rahamim Ecology Centre