Archived News Item
A Milestone in Yarapos
October 28, 2013
MERCY SECONDARY SCHOOL YARAPOS GOLDEN JUBILEE
Mercy Secondary School Yarapos in Wewak, East Sepik Province of Papua New Guinea, celebrated its Golden Jubilee on 11th – 13th September. Founded in 1963 by the Brisbane Sisters of Mercy in the Diocese of Wewak, this girls' school has educated thousands of young women under the leadership of nine Sisters and two lay principals whose names adorn the buildings. The environment is tropical and evergreen.
Great joy and enthusiasm expressed the respect and love the community has for the school. Thirty Sisters of Mercy who were either ex-students or ex-teachers, gathered from all over Australia and Papua New Guinea with members of the ISMAPNG Leadership Team. Visitors came from Australian Mercy schools in Geelong and Perth as well as those with a philanthropic interest in the students. The Program was held each day in the partially completed sports centre able to hold thousands.
The current 600 boarders and 100 day students led the Liturgy for two days and the Past Students group on the third day, the main celebrant being Bishop Otto Sapary of Aitape well known to the school. He was accompanied by eleven other priests. Traditional dances were performed from Kubalia, Sepik Central, the Islands, Sepik River, West Coast, and Yangoru as well as Sandaun , Morobe, Madang and North Solomons Provinces, an example of PNG's 826 language and cultural diversity. Formal presentations expressed the heartfelt gratitude of the school and past students to the Sisters of Mercy for their continued presence and interest in the school. Here the Mercy Spirit is maintained and fostered.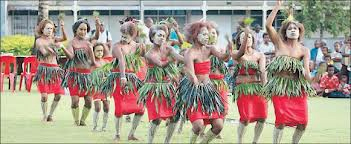 Messages to Theresia Tina