Archived News Item
A MERCY PLACE FOR REFLECTION AND SANCTUARY
June 27, 2016
The Mercy Reflection Garden is a wonderful asset for McAuley Catholic College, Grafton NSW and was built with the generous support of the Mercy Sisters. Sr Barbara Bolster rsm attended the blessing and opening on 30th November 2015 accompanied by other Sisters of Mercy from the Grafton region, Sr Jenny Hartley, Sr Clare Noonan and Sr Jan Holohan. The garden was blessed by the College Chaplain, Fr Bing Monteagudo and opened by Sr Barbara Bolster.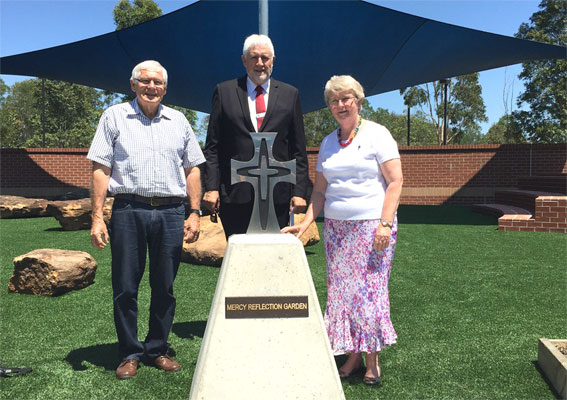 McAuley Catholic College has been on a new site at Clarenza since 2004 but could not afford the prohibitive cost of building a chapel, so the Mercy Sisters of Grafton, prior to their amalgamation into the Institute of Sisters of Mercy of Australia and Papua New Guinea, set aside some funds to create a space on campus to allow quiet reflection and a point of focus in times of sadness or tragedy or celebration.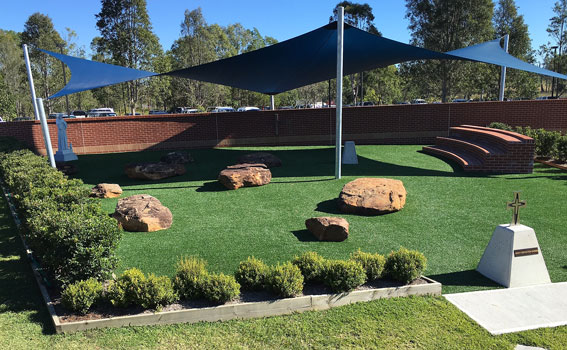 The process started with identifying an area and drawing preliminary plans with input from various sources. The Principal, Mr Leon Walsh, consulted with a range of people including local craftsman and artist, Mr Jim Muldoon who has had a long association with design and construction of Mercy crosses for schools and institutions across Australia. He designed a stainless steel Mercy cross for the entrance to the Garden. Many local contractors contributed to the development, along with staff and students who assisted in various ways.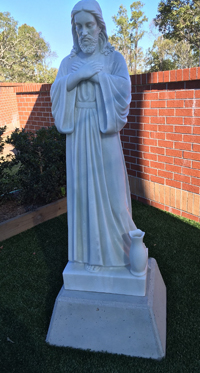 The Garden has a small tiered seating area suitable for a class gathering. In one corner there is a marble statue of Jesus and the remaining space has several large rocks which provide relaxed seating. There is an extensive shade sail covering about half of the area. As the hedge around the space grows and matures, it is hoped the Garden will provide a sanctuary and quiet space for students and staff.
The College community is very proud of its Mercy heritage and owes an enormous debt of gratitude to the Mercy Sisters who pioneered education in this region dating back to January 1884 when they landed in Grafton from Bermondsey in London.
The College is indebted to the Mercy Sisters for their support of this project.

Messages to: Leon Walsh
Photos:
1. L-R: Jim Muldoon, Leon Walsh, Barbara Bolster rsm
2. Mercy Reflection Garden
3. Marble Statue of Jesus