Archived News Item
A MERCY MAN AT WORK
July 3, 2015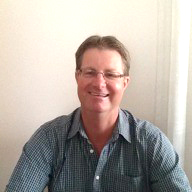 The Noonan family has been associated with the Mercies since my father attended St. Mary's in Grafton towards the end of World War 2.
My own education was a mixture of different orders due to moving every few years throughout NSW. St. Therese's Primary West Wollongong (Sisters of the Good Samaritan), Our Lady Star of the Sea Miranda in Sydney (Sisters of St Joseph (California)), St. Mary's Primary and De La Salle College Armidale ( De La Salle Brothers) and the Christian Brothers in Tamworth. My 3 daughters attended St. Mary's College in Gunnedah when a Sister of Mercy was the Principal.
With 21 years in Banking and having lived in 5 different towns, I gained an insight to how finances and job security can play a pivotal role in determining the level of housing people can afford and how easy due to changed circumstances you are not that far from homelessness.
Having accepted a redundancy from the Colonial Bank I was fortunate that in 1998 the Gunnedah Sisters of Mercy were looking for an Office Manager. The Congregation at that time was the smallest consisting of 33 Sisters, but was still operating a 23 bed Hostel and was responsible for the local Catholic High School with over 400 students. I was very fortunate to work with energetic leadership teams over those 13 years who I still regard as close friends and catch up with quite frequently.
The annual Mercy Finance meetings held in different venues throughout Australia brought me in contact with some amazing Sisters and laypeople over the 13 years I attended and were a valuable resource when the Institute commenced.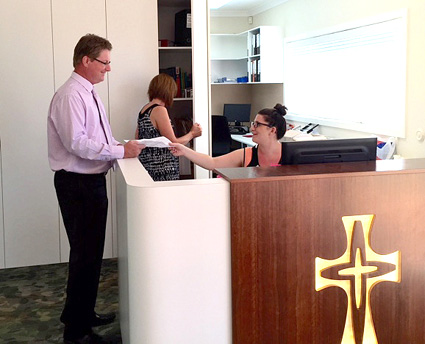 With the formation of the Institute in 2011 I was offered the position of Administration Manager – Central based in Tighes Hill Newcastle. It was blessing that I could continue working with the Sisters but also having my daughters and their families including 6 grandchildren all living within an hour's drive.
I was on the advisory board of Gunnedah Police Citizens Youth Clubs (PCYC) for 10 years in Gunnedah which, with the assistance of local police, targets children at risk of turning to crime and introduces them into programmes that provides them a positive outlook on life.
I witnessed first hand how socio economic circumstances can define how children come to see the world. With unemployed parents, many children turned to crime as a way of expressing how they felt society had let them down. When the PCYC took these children on bus trips to see football and cricket matches they displayed completely different personalities from aggressive to engaging in conversations with adults. There were successes where those on programmes often found employment rather than coming to the attention of the Police.
I am a member of a local Rotary Club which has been working closely with Rotary in the town of Kyampisi just outside Kampala the capital of Uganda, to bring children to Australia that have survived being an attempted child sacrifice. It is unimaginable that in the 21st Century approximately 90 children per year in Uganda become victims due to superstition and witchdoctors claiming that a sacrifice will heal the sick.
Our Club has a wonderful honorary member, Dr John Christie, who being a neurosurgeon, has operated on children brought to Newcastle from Uganda pro bono and travels to Uganda to teach local doctors methods of dealing with machete wounds inflicted on children.
We are currently assisting the community in Kyampisi to install running water into the local medical centre at a cost of $9,000 as local funding was only provided to build the centre but not to supply a basic necessary like running water.
In April 2013 I attended the Catherine McAuley Pilgrimage to Dublin, which being my first overseas trip was a wonderful experience and certainly provided a sense of presence when visiting Mercy International Centre at Baggot St.
At the Cairns Mission gathering in August 2014, a strong emphasis was placed on homelessness as a priority as a future focus of the Institute which resonated with me due to my previous experiences in both employment and community service.
When I was contacted by Margaret Moore rsm from the Institute Mission Team to become part of the Housing and Homelessness Committee I felt privileged to be considered and confident that the Institute in conjunction with other stakeholders will be proactive in this area. And so my Mercy journey continues.
Messages to: Mark Noonan
Bottom photo: In the Tighes Hill Office with staff member Emma Veronesi.