Archived News Item
A MERCY JOURNEY FROM NORTH TO SOUTH
May 19, 2016
The phone call came to Ellen Dunn rsm from Audrey Ratcliffe, a former colleague and good friend at the Catholic Education Office in Sandhurst. Audrey resides in Kyabram which is a town in northern Victoria, two hours journey north from Bendigo. The Kyabram Hospital was changing over its linen provider and as a consequence was disposing of a large volume of towels, sheets and cotton blankets. Audrey's question was, do you know of someone who might be grateful to accept the outgoing linen – someone who assists refugees and asylum seekers in their resettling in a new land? Two Mercy sisters in Melbourne, Mary Duffy and Valda Clarke, who live in Ascot Vale, came to Ellen's mind.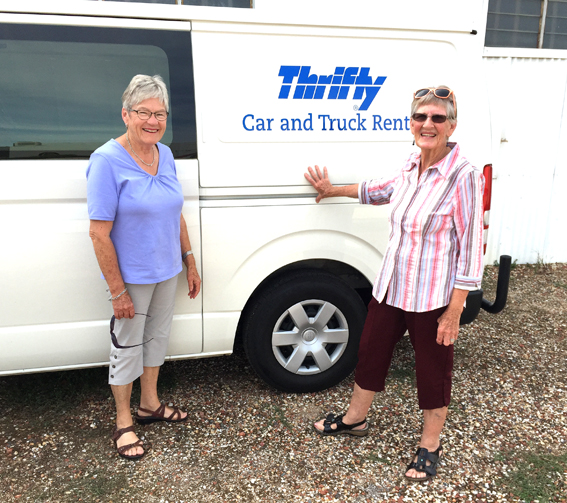 She contacted them and grateful acceptance and deep gratitude permeated their response. The volume of linen was too much for Ellen's Ford Focus hatchback, so a Thrifty Van was hired. On arriving back in Bendigo all loaded up with the linen, Ellen met Anne Cossar, another Sister of Mercy. She recounted her day's adventure along with the fact that ultimately the linen needed to be transported to Ascot Vale. Anne's response was "Let's go on to Melbourne now!" It was 3.00 p.m.
So off they set. Upon arrival at Ascot Vale, two hours later, together they unloaded the van. After a comfortable cup of tea with Mary and Valda they returned to Bendigo with a greater awareness and appreciation that the Circle of Mercy is alive and well.
Thanks to Audrey, up there in Kyabram, for your mercy-filled heart and for reaching out to those who may need an extra blanket this winter.
The lines from Mary Wickham's poem spring to mind: "The door of Mercy rests on the threshold of need. Its single key is kindness, which is always in the lock."