Archived News Item
A MERCY GATHERING
February 8, 2016
Recently, the Mercy Sisters of South A Community, South Australia, held a wonderful event called 'Celebrating Mercy' in Adelaide.
The event was held in celebration of a number of events that occur around the same time including the conclusion of the Year of Consecrated Life, commencement of the Extraordinary Jubilee Year of Mercy and commemoration of our Mercy Foundation Day.
Each sister was given the opportunity to invite two guests – her family members, colleagues or friends who have inspired, walked or journeyed with her in Mercy. About one hundred and eighty people gathered at the Pavilion on the Park, blessed with a magnificent view of the garden, so appropriate in the discussions of our Earth Home and Mercy.
We began the day with a beautiful PowerPoint show prayer, created by Sisters Tess Flaherty and Anne Foale, based on Pope Francis' prayers for the Earth and for the Year of Mercy.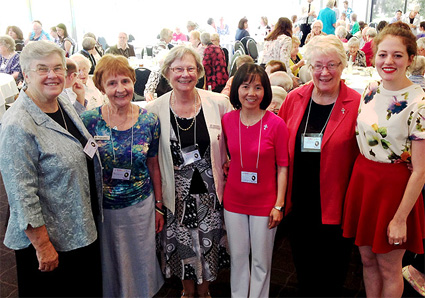 The whole congregation was 'captured' by Sr Veronica Lawson's inspirational talk and input on Mercy as God's Embrace. We were then moved on to 'Mercy in Action' by a Young Mercy and Justice coordinator from Saint Aloysius College, Maddie Kelly. Everyone had a chance to share his/her own experiences of giving and/or receiving mercy. Each story was gracefully listened to and treasured. For example, from an elderly woman, a small act of mercy as a young man offered to help her onto a bus. From an Aboriginal woman, the giving and receiving of mercy as students visited her Homeland. From a teacher, the beauty of nature enabled healing for her adopted mother.
We all went home with hearts full of joy and ever ready to be an Agent and Ambassador of God's Mercy!
Messages to: Duyen Nguyen rsm




Photo: L-R The Organising Committee with key note speakers – from left to right: Sr Marie Ralph, Sr Veronica Lawson, Sr Tess Flaherty, Sr Duyen Nguyen, Sr Kate Conley and Maddie Kelly.