Archived News Item
A Long Journey
March 27, 2014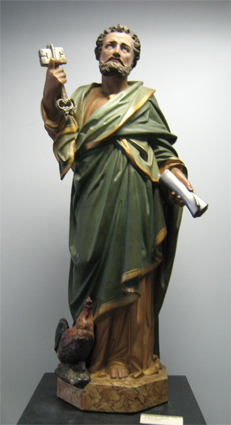 Within the Institute of Sisters of Mercy of Australia and Papua New Guinea Archives in Melbourne we have many objects that tell interesting stories but this statue of St. Peter is one item that has a particularly intriguing story which links County Wexford in Ireland with Yarrawonga, a small town on the Murray River in northern Victoria.
The story begins in Australia. When Father Kennedy, the local Parish Priest, was looking for an order of nuns who were willing to found a community in Yarrawonga, he initially requested the Brigidine Sisters. This request however was refused by Dr James Lynch, the local Bishop of Kildare and Leighlin, in whose diocese the Brigidine Sisters had been founded in 1807. Not to be deterred, Father Kennedy decided to approach Dr Stephen Reville O.S.A., Bishop of Sandhurst Diocese in Victoria, who subsequently made contact with the Sisters of Mercy in Wexford, asking whether they would come to Australia. Bishop Reville had himself been born in Wexford and had entered the Reverend Dr Furlong's Augustine Novitiate at Callan.
Four Sisters of Mercy volunteered to make the foundation in Yarrawonga, leaving St Michael's Convent of Mercy, Wexford on 7 February 1890 to begin their mission to Australia. The group was led by Mother Ignatius Walsh and sailed on the ship Austral, accompanied by Bishop Reville, arriving in Melbourne on 29 March 1890 after a journey of seven weeks.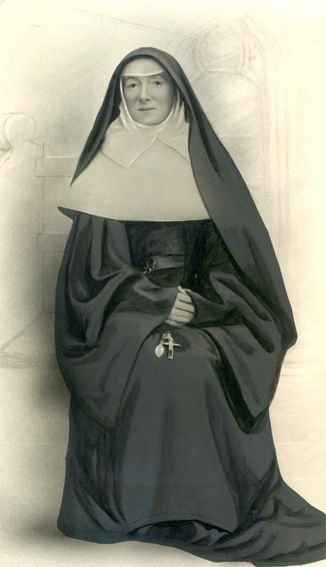 One member of the group, Sr. M. Peter (Teresa, or "Tessie") Furlong, kept a journal to record her experiences on the long sea voyage between Ireland and Melbourne and her experiences after arriving in Australia. The journal is held in our archives and gives a poignant account of the sisters' departure from Ireland, their arrival in Melbourne and their onward journey to Yarrawonga.
The following extract from Sr. M. Peter's journal describes the welcome the sisters received upon arrival in Yarrawonga after their long journey, and the joy they felt when seeing their convent for the first time.
Saturday 19th April [1890]
Left Echuca at 5 a.m. accompanied by Fr. Moore. Had two changes on the way. At Benalla we met Dr. Reville and Dr. Barry who came on with us to Yarrawonga. Dean Davy was at the station also. We became very excited when Fr. Moore said "Now we are in the District of Yarrawonga", and the Bishop said "We are coming near the land of Promise". At 2.30 the train stopped at Yarrawonga station. There were crowds of ladies awaiting us and Fr. Kennedy. After being welcomed by them all, we were driven in a cab accompanied by Mrs. McNamara and Fr. Moore in the seat, followed by Dr. Reville and Fr. Kennedy in a wagonette and pair of beautiful white horses to the Presbytery. The ladies followed in the bus, Dr. Barry in seat. After a few minutes rest, we were brought to see our Convent. Oh! How delighted we were on entering. We kissed the walls. We were agreeable surprised at its appearance. The ladies set to work to arrange the dormitory for us to sleep in. Then we returned to the Presbytery for dinner. In the evening the Bishop and Priests came to us in the parlour, which Fr. Kennedy, kindly gave up for our use until the Convent was ready- tradesmen gone etc."
The plaster statue of St Peter with which we began this story also has connections to Sr M. Peter Furlong. The statue portrays St Peter holding a key in one hand and a rolled scroll in the other. At his feet is the rooster, which, according to scripture, crowed when Peter denied Jesus (John 18: 25 – 27). Although we don't know the details of the making of the statue, we do know that there had been a transformation in devotional practice in Ireland following the Great Famine of 1845-1852, with standardised mass-produced objects like statues being imported from continental Europe. These changes "had specific material forms in terms of both devotional artefacts… and in the interior fittings of the thousands of Catholic churches that were erected between 1850 and the turn of the twentieth century". Perhaps this gives us a clue to the provenance of the statue.
Sr. M. Peter had reportedly received the statue as a gift in Ireland and brought it with her to Australia, however we have no record of how it travelled to Melbourne or to Yarrawonga. We can also place the statue at Rosanna Convent, then at Ascot Vale Convent in later years. When both of these convents closed, the statue was assessed as significant as part of the story of the Sisters of Mercy, Melbourne Congregation and was transferred to our collections. So, this statue has travelled a long way over many years!
After years of dedicated work in Yarrawonga, Mother M. Peter died on 7 September, 1909 at the age of fifty-two. She is buried in the Yarrawonga cemetery.
Jessie Llewellyn and Jane McGee
Institute of Sisters of Mercy of Australia and Papua New Guinea Archives
Messages to: Jane McGee