Archived News Item
A Listening Ear
December 12, 2013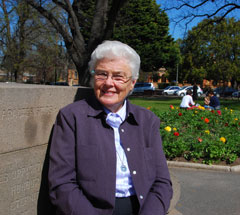 A maximum security correctional centre wasn't necessarily what Sr Loretta Corrigan RSM had in mind nine years ago when, having finished her latest studies in Melbourne, she applied to return to the Archdiocese in a pastoral care job. She was offered the position of chaplain at the Goulburn Correctional Centre. "I said I didn't know anything about jail life but would give it 12 months and see how it went," Sr Loretta said. As it turned out, she "quite liked it". "From the day I first went in there, I felt it was the right place for me. I felt quite at peace there."
So she stayed on and only now, after nine years, is she preparing to step back from the 35 hours a week of what she concedes can often be a "full-on" job. Not that her work has been anything other than satisfying. "I find it a privilege to work out there (at the prison)," she said. "I am constantly amazed at the depth of the men's spirituality … It's also taught me a lot about the fragility of humanity and that there is more to the person than perhaps what they have done. The depth of humanity that I see is extraordinary." It also helps that the intensity of her ministry is eased with friendship and humour. "We have a lot of laughs. There are some real characters there and the staff is fantastic. The ministry is very rewarding."
Sr Loretta is one of two full-time chaplains at the centre, along with an Anglican chaplain. There is also a part-time Salvation Army representative and several sessional chaplains. All are available to inmates of any denomination, who may want to talk about anything from spiritual issues to family matters. The chaplains enter the centre each day prepared for anything. "You have to be very flexible. You never know what you are going to be met with on any day." The art, Sr Loretta says, lies in being prepared to listen to the inmates' stories without judgment and "accepting them as they are and where they are at that moment".
Having spent many years as a primary school teacher, "where you usually feel you have to fix things", Sr Loretta has had to adjust to working with adults in a crisis situation and accept that she cannot change the inmates' circumstances. What she can do is be there for them. "People who may be interested in my type of work need to be good listeners in a non-judgmental way. They need to love people and be compassionate towards them. "You need to be prepared to listen to another person's story, their spiritual needs, hopes and dreams, regardless of culture and creed. And you need to have an unconditional love of these people."
Sr Loretta, who was professed as a Sister of Mercy in Goulburn 48 years ago, says she has always "had a bit of yearning to do something that was beyond my comfort zone; to be involved with the poor of our society". Brought up with three brothers on a livestock farm at Bowna on the upper Murray, and educated in Albury, Sr Loretta entered the convent in Goulburn, studied teaching at Signadou in Canberra and went on to teach in Cootamundra, Yass, Canberra, Goulburn, Tumut and Crookwell. She also has a degree in theology, a unit in clinical pastoral education and training in spiritual direction, and is grateful for the opportunities her calling has brought her. "It's been a wonderful life – creative and life-giving," she said. She has also found time along the way to enjoy her pastimes, including following the footy (the recent woes of her beloved Essendon notwithstanding) and watching movies and live theatre when the opportunity arises.
She lives in one of a clutch of units housing the five Mercy Sisters in Goulburn and has no plans to move on if things work out the way she hopes. Sr Loretta's preference would be to continue working at the centre on a part-time or voluntary basis while ensuring she has a "lot more space in my life for a few other things", the plans for which she is not prepared to divulge at this stage. In the meantime, Sr Loretta will prepare for life after her full-time chaplaincy with a sense of having achieved something uplifting and worthwhile.
As she said in an address to a chaplains' conference in Cameroon two years ago, "Again and again, I am struck by the power of this ministry and humbled by the power of God doing His thing through me as a chaplain."
Written by Fiona van der Plaat published in the Catholic Voice (Archdiocese of Canberra and Goulburn)